The distance between a sore tooth and the wrong boot is not very far—from your mouth to your toe. However, their ability to spoil your existence is much, much closer.
Think about the way you shop for a dentist when shopping for a winter or snow boot. You listen to others' advice, experience, recommendations and do some research. You are essentially trying to avoid one who disregards your comfort or pain. You want one that gets you through your episode—or your winter season—without ruining your day, week or month.
Buying the right boot involves a lot of research. Considerations for women's winter boots differ greatly from those for men's winter boots. We therefore divided these categories.
Chew on this and get the boot that won't ruin your winter or your taste for the outdoors. Use the quick links below to navigate to your desired section.
Editor's Picks: Best Winter Boots & Snow Boots 2020
Best Winter Boots for Men
Timberland Chillberg Tall Insulated Boots
Whether feeding cattle in deep Wyoming snow, heading to your kid's football game in a snow storm, strapping on a snowshoe for a peaceful winter hike in the wilderness or sitting in an ice-fishing shed all day in Manitoba, this boot is a treat to the feet and appealing to the eye.
Pop these on for a quick chore or outing in the country on your snowmobile or to grab the snow-blower and clear your home's driveway and porch. An 8-inch shaft of premium, waterproof leather warrants the "tall" in its name. Its fully gusseted tongue reinforces its snow- and debris-repelling capabilities.
Another in the club of 400-grams of insulation, the Chillberg Tall incorporates a waterproof membrane, too. It's a leave-no-chill inside kind of boot. Kids or wives who want to win added affection from the man of the house can do worse than buying him these boots for Christmas, Father's Day or his birthday.
Columbia Bugaboot Plus III Omni Cold-Weather Boot
Want a boot that satisfies the most seasoned mountaineer yet suffices as smart urban wear on a rainy or snowy winter's eve uptown?
The Columbia Bugaboot III combines the unflappability of RoboCop with the determination of a Reinhold Messner to march in stride with the best cold weather boots on the market.
Color these light yet rugged, built for the long haul and, most of all, comfortable as alpine footwear can get. Its Omni-Grip rubber sole lays waste to talus and scree fields while a cushioned insole and midsole absorbs the shock of the rockiest terrain.
Same goes for snow fields. Though weighing in light at 2 lbs., 10 oz., this pair of snow boots can muster the power to snow step and the agility to foot glissade—all a dedicated mountaineer can want from his footwear.
What is its most impressive virtue? It keeps your tootsies toasty due to an Omni-Heat construction that retains the heat from your feet by reflecting it back from the lining of the boot. The gusseted tongue of the Bugaboot, meanwhile, disallows any water, snow or other debris from entering that might further compromise the boot's warmth.
Sorel Conquest Waterproof Snow Boot
If you are an outdoorsman who conquers cabin fever by imbibing in more than one winter activity, the Sorel Conquest—true it its name—accomplishes the feat.
This rugged, warm, winter hiker and a snowshoe-friendly boot will cover miles of varied snowbound terrain without eliciting screams from your feet. Its Thinsulate Ultra insulation and agile, rubber-lug outsole brings this rather heavy boot (4 lbs., 11 oz.) into anyone's comfort zone.
As one might guess, because of its heft, a lot of material goes into this stalwart. Therefore, it induces a bit more sweat than other boots in this niche, especially considering its injection-molded, waterproof thermal rubber.
Unlike many winter boots, the Sorel Conquest fits your foot size, even while wearing relatively thick socks. For bouncing around winter camp, heading out into the wilderness with your Christmas tree permit, splitting wood for the fire or grabbing your bow and stalking elk, the Conquest is everyman's boot.
Sorel Caribou II
It's not far-fetched to call this classic the genesis of what the world knows as a "snow boot." Released about the same time snowmobiles were first mass-marketed and men started sending satellites and space capsules around Earth, the Sorel Caribou struck out on a mission of its own: To keep feet warm while slogging through snow.
A little less sophisticated than a Sputnik or Apollo, the Sorel manages to fend off frigid environments with a nubuck leather upper and removable, washable, recycled felt liner with a Sherpa Pile snow cuff.
A 2.5-millimeter thick midsole of felt and a handcrafted outer sole of waterproof, vulcanized rubber, complemented by Aero-Trac tread, serves as a winter wanderer's moon boot. Unfortunately, it may seem just about as heavy.
Despite its clunky character, you can step out of the house to shovel snow from the driveway or dig out your kid's tricycle from an early visit by Old Man Winter without jumping back inside every five minutes.
Kamik Greenbay 4
Kamik's winter boot legacy stretches over a hundred years. Its vast inventory reflects the boot maker's prominence in its market. The Kamik Greenbay 4 Cold Weather Boot caters to getting out in the snow for fun or some chores with snow shovel in hand.
If you are stationary in a duck or goose blind surrounded by ice and snow, your feet might feel like they are disappearing after a few hours, depending on the actual temps. For stepping outside to help the kids build a snowman or snow fort and to keep the driveway clear, these are your gooseberry: effective, affordable, easy to slip on and good for at least a few winters.
The Velcro strap just above the crown of the foot and the easy pull cinch on the top of the shaft make it perfect for quickies such as taking the garbage out in the snow. A 13-inch high shaft and 8-millimeter thick felt liner add to the warm-and-dry quotient of this boot.
Salomon X Ultra
If a boot could exhibit a split personality, the Salomon X-Ultra is the one. It masters the wilds yet fits nearly like a gym shoe. So what is it, really?
A cozy, light, but tough boot which sacrifices a bit of ankle protection for its litheness. Much lighter than its cousin, the Caribou, the X-Ultra definitely requires the aid of gaiters in snow or wet environs to compensate for the brevity of its uppers.
With gaiters, they serve as comfy, warm, flexible boots inside snowshoe harnesses. Its seamless Climashield waterproof membrane keeps your feet bone dry. Don't fret chilly feet unless you are spending extensive time in sub-zero temps. An extra-stiff sole, though proving a bit slippery, provides all the strength a snowshoer or winter hiker requires.
Word of caution: Dare not undersize when buying these; they are an honest fit to your normal foot size. You risk pain if you underestimate their snugness.
Vasque Snowburban II Ultradry
This is another winter crusher that can't make up its mind on whether to step out of a Porsche Cayenne or a Kia Sportage. Its panache aside, this waterproof snow boot is intended to tackle winter from all angles.
Another boot in the 400-gram of insulation class, the Vasque Snowburban II Ultradry finds itself at home inside a snowshoe or on descent from a 7,000-foot-high snowfield. Why wouldn't it? It's a Vasque, a name synonymous with mountaineering before Howard Schultz was even old enough for his parents to allow him to sip a cup of coffee.
This boot oozes with eye appeal, thanks to its duo-tone, suede and textile uppers that most importantly repel the sloppiest slush and ford the peskiest freshet all the way up to the top lace. This is the winter boot you buy because you already own a four-season tent, snowshoes, and perhaps a split-board snowboard.
Salomon Nytro GTX
If you love the mountains and winter's solace, Salomon serves up just the boot for you in its Nytro GTX Snow Boot. Pay no heed to its faux fur collar; it is indeed for function not for catching eyes on the trail, though it may just do that.
Hiking, especially in winter's chill, is all about foot comfort. The Nytro GTX fully addresses this priority, from well-below-freezing insulation value to very supportive midsoles and outsoles.
Moreover, this boot breathes, especially crucial for cloudless winter days on the snow—just like those bluebird days on the snow around the Colorado Rockies or the Front Range. Credit the Clima-Dry, waterproof, breathable membrane.
These light babies (2 lbs., 11 oz.) flex but are rigid enough to handle crampons. These will last you many winter seasons of long-range hiking in the high country.
Merrell Moab Polar
If you are going to complain about this boot, your beef will likely be, "My feet are hotter than coals!" Yes, the Moab Polar is that warm. It traps all the heat your happy feet circulate, reducing snow and ice to something akin to sand on a tropical beach.
Light and comfy, the only time you may want to take them off is to dry out the sweat from their fleece lining. Its force field against the cold and damp consists of 400 grams of insulation and a flexible thermoplastic urethane shell. Removable foot beds and compression-formed EVA midsoles account for the comfortable, snug fit.
Its traction is enough to make a UPS driver take the toughest route to a doorstep just for fun. The soles on this waterproof boot are an impatient ice fisherman's best friend.
The only dig on these particular Merrells consists of isolated incidents of splitting where the rubber-composite bottom meets the leather upper. Otherwise, all reports indicate a boot destined for a long life on the snowy trail.
Kamik Fargo
As with all Kamik boots, the Fargo serves the primary purpose of warmth and dryness in the snow. They aren't built for long-distance hikes or negotiating extremely rugged terrain, but they do their job when casual activities or chores around town beckon, no matter the snow's depth.
Seamed suede and nylon upper help ensure dryness when you have to step down into a yard piled high with snow. It is perfect for a short drive to a snowbound park outside town where you simply want some peace and solace from the urban scene.
Though not the consummate outdoorsman's winter footwear, its rubber outsole performs surprisingly well on slippery surfaces. Moreover, it is comfy because of its easy fit, though moving up a half to full size is necessary, much like most Kamiks. Thinsulate lining caps this boot's ability to keep your feet toasty during less-than-marathon excursions or tasks.
UGG Men's Butte
Don't let the fact that this boot is carried by Nordstrom or ringed by fluffy sheepskin rile your machismo to the point of turning away at first glance. It's a badger in sheep's clothing. Stylish, solid construction, toasty, plenty of traction: the UGG Butte in a nutshell.
Sub-zero haul to the horse barn? Three-mile jaunt on your snow machine? Need to strap on a snowshoe? This is your boot. You can even leave the gaiters behind, thanks to its hint of fu-fu and full-grain, waterproof leather, not to mention a shaft stretching to 7-1/2 inches that can actually fold down for compact snow conditions in above freezing temps.
Its wool liner keeps the fire burning heel-to-toe while the fully taped seams and eVent membrane seal out an otherwise debilitating high-plateau breeze, the driving snow or ice-covered pond. Vibram outsoles equate to hiking-boot traction. Remove its insole or replace it with a better fitting or more supportive one if needed.
Merrell Polarand Rove Zip Boots
Merrell steps off the mountain and onto the sidewalk with this winter walker, definitely an urban dweller that needs some indoor shelter and warmth nearby.
This is a boot intended to slip into with your eyes closed—one zipper sans the more unsightly eyelets for lacing up most winter boots. This is not the boot for boldly stepping off the curb and into a slew of slush on top of a snow-clogged street drain.
Because the zipper runs the entire length of the boot's shaft, moisture tends to find its way inside. However, the Polarand Rove can keep your feet warm on a bar-hopping evening or any out-and-about city endeavor where the warm car or an establishment is always nearby.
Don't expect to stretch your use of these boots to a snowshoe tour with some friends, but it wouldn't make a bad kick-around inside a ski resort or on its deck, well above the ski racks and snow base.
Best Winter & Snow Boots for Women
Don't think that all women's winter boots are alike. They aren't, as evidenced by the following favorites, which range from serious bombers in the snow to warm but fashion-forward. It's all a matter of degree when it comes to some variances—in terms of the mercury and the look.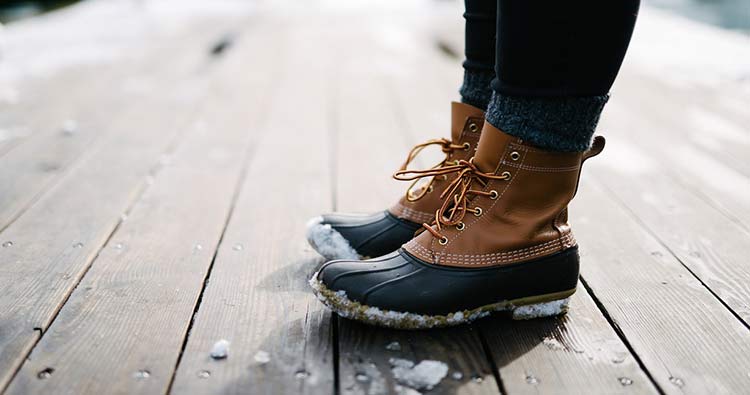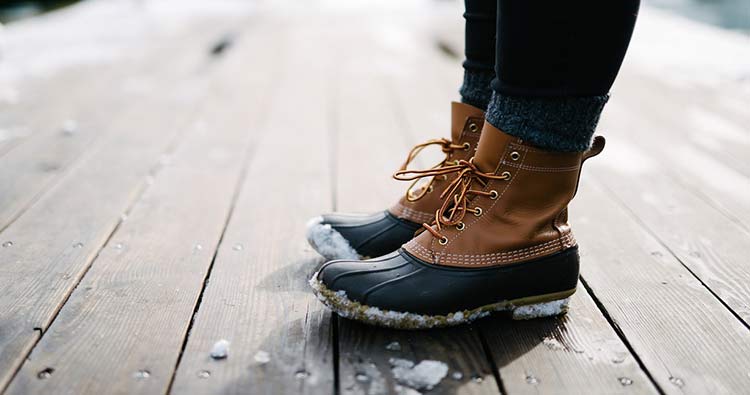 Timberland Women's Earthkeepers Mount Hope
A hint of mukluk, due to the wide laces and faux fur collar, blends nicely with stylishly seamed leather to lend this boot the look of an Arctic sojourner and Sun Valley recreationist all at the same time.
Inside the Timberland Mount Hope lies cushy warmth while outside lives a waterproof, leather-and-fabric upper that stretches 9-1/2 inches from the arch of the boot. These are ideal for heading out in the dead of winter to feed horses, flashing around in a ski resort, hopping onto a snowmobile, or even strapping into a snowshoe.
Whatever use you find for these boots, their quilted shaft and faux fur lining make it easy to forget you are wearing boots. Despite their relatively lengthy lacing, the Mount Hope is quite easy to slip on and exit, whether in leggings, skin-tight jeans or some classic Levis. Call these boots winter-tough couture.
North Face Shellista II
This boot champions a thrifty dry. Its efficient use of material to achieve solid protection from the cold and damp minimizes the bulk that this genre of women's boot usually carries.
Give credit to 200 grams of PrimaLoft Silver Insulation Eco, crafted from 70 percent post-consumer recycled materials. Its relative trimness makes it compactable in your gear bag on a day ripe for carving some powder on your snowboard or heading out on a girls-only snowshoe trip.
The Shellista II Mid accommodates just about any winter outdoor activity, whether recreational or work related. Its cushy knit collar and smart-looking nubuck leather uppers—stretching up to 8-1/2 inches high—add style to a winter workhorse.
Northface tailors the fit to women by employing an injection-molded, waterproof thermoplastic rubber shell. It goes where no other boot dares because of temperature-sensitive lugs on a rugged outer sole.
Cougar Chateau
These uppers are likely to tower over any snowfall shy of Alaska proportions. At 13-1/2 inches high, adorned by fashionable red and flame-orange laces, the nylon shafts on these winter walkers are crowned by haute, faux-fur collars. Warmth runs from toe to knee.
These are noticeable boots because of their forward fashion but also designed for warmth, comfort and decent grip in the snow. Though these boots can run a little smaller than your normal size, you can sacrifice thick socks in this case and still keep your feet warm. A removable memory foam insole gives you some flexibility with fit and support.
This is definitely a boot intended to wow the popular hubs of snowbound cities, but one that can handle a short winter's walk in the forest. Because of their nylon construction, they are incredibly light. Wear them all day if you like.
Ahnu Northridge
You might call this clever boot the Labrador retriever or Newfoundland of women's winter footwear. Like these four-legged water lovers whose coats naturally repel dampness and cold, the Ahnu Northridge allows your foot's sweat vapors to escape without letting exterior moisture enter the boot.
A waterproof eVent fabric, featuring an unusual membrane structure, deserves the credit for this nifty feat. Lightweight for their 9-1/2 inch height and their more than ample support throughout, the Ahnu Northridge also touts a clever stylishness, especially in the wine color.
Visiting the vineyards in the snow anytime soon? These are a perfect fit. Walking the winter landscape of Northern Michigan or downtown Chicago during its worst winter blusters? The laced-up Northridge, crafted of nubuck leather uppers, handles these scenarios with panache. The Northridge exudes a stylishly casual countenance on the outside, while doing nothing but taking care of business with your feet.
Merrell Decora Chant
This is the boot you need to wear when you wake up to snow pelting your bedroom window and your car's windshield is worth at least 10 minutes of scraping. Pop in your Keurig, pop out your toast and slide your feet into the zip-up Decora Chants in just seconds.
Grab your heels for a quick transition of footwear once you reach your office with nary a chill to your toes or a second lost. Such is the genius of the Merrell Decora Chant. Casual yet serious when it comes to staying warm and dry, this boot employs a stylish, full-grain leather and pig-suede upper to please the eye, while its EVA midsole ensures comfort and support.
A breathable mesh lining wicks away moisture as you otherwise tussle to and fro with winter's worst. This is not an extreme hiking or multiple winter-activity boot by any stretch, but your feet remain toasty and dry when heading to the dog park in the snow or enjoying the solace of winter on a walk through the park.
Columbia Minx Mid II Omni-Heat
Think of this cozy, stylish winter boot as a down sweater or jacket for the foot with a waterproof yet breathable shell. An Omni-Heat reflective lining further seals the winter out and keeps the tootsies toasty.
Contoured polyurethane foot beds provide support and can be removed or replaced for a better fit if needed. Omni-Grip outsoles keep you on your feet when stepping out of your door or from the car onto ice or snow.
You can bandy about all day and night in these boots, weighing in at a feathery 13.2 ounces. You may not even realize you are wearing boots during your daily routine. They are nearly as light and breathable as your favorite sneakers. For the couture-minded who refuse to shrink before winter's wrath, the Minx Mid II Omni-Heat boot excels.
UGG Adirondack II
As UGGs go, this boot throws fashion to the wind and puts function on its pedestal. But then again, a beefy looking, sturdy, grip-till-death women's boot with a brand name that rhymes with thug can get by with nixing chi-chi.
When you experience how well this boot grips the ice and snow, you will gladly sacrifice fashion for performance. Easy to enter and exit, plenty warm and easy to clean, this UGG is far from ugly (if not only for its variety of colors), but is intended for women hooked on the outdoors during winter.
It uses the same aggressively patterned Vibram sole that graces most serious hiking and mountaineering boots. Meanwhile, superb shearling insulation slams the door on winter chill—to the extent of chucking your thick wool socks for thinner yet warm, faux-wool blends and even liner socks. The boot is super-light and agile, weighing well under two pounds.
Sorel Women's Joan of Arctic Wedge Booties
Do these belong in the office or on the farm? Sorel lets you decide. You can shun decision-making altogether and use them for both. A waterproof, full-grain leather upper lends posh whether in the kettle major or black quarry color.
These are unlined boots with a molded rubber outsole and removable EVA foot bed with heel cup and arch support. A micro-fleece top cover helps retain the warmth of this boot, which won't quite do in a big bank of snow because of its 6-1/2 inch shaft height. However, a molded rubber outsole and molded polyurethane wedge lend some stomping cred to this boot in inclement conditions—without compromising its dressiness. Your calves may become tired before your feet do in this ultra-light boots (16 oz.).
These aren't going to sustain sub-freezing temps in a blizzard for a great length of time, but they will get the chores done around the house or in the field during moderate snow storms and still be evening-wear ready.
Blondo Sasha
The Blondo Sasha looks like it lives two lives: one on the Arctic tundra, the other on a toboggan scooting down a snow-covered hill in New Hampshire or Minnesota.
It will keep the feet quite toasty, regardless, thanks to a seam-sealed waterproof leather and synthetic upper that envelopes polar fleece and faux fur lining—the latter splashing out at the collar to lend a feminine look to a rugged yet casual boot. It's 10-1/2 inch height and waterproof design will address any Wisconsin snowstorm at a Packers game or a winter's night on the town in Upstate New York.
The lengthy laces allow you to conform its fit to your calves, though you might have to size up, especially if you prefer thick socks. Zippers on the side, however, allow for easy and quick entry before lacing up. This is a boot for trendy encounters with winter's most frigid moments.
Best Waterproof Winter Boots for Men & Women