So you've got this special friend or family member who loves to spend their time outdoors, but you don't have any idea what to give them for their birthday or for Christmas? Here are some great Outdoor Gift Ideas, that is really unique and unusual.
While we usually stick to writing about waterproof products, this time we've expanded our scope for the outdoor enthusiasts on your gift list to include a range of cool unique gifts that will keep on giving all year long!
Check out our List of the Best Unique Outdoor Gifts Ideas 2020:
Click on the images to check the latest price for each item.
1. WATERFLY Waterproof Socks for all kinds of Outdoor Activities
I know we said no socks, but these Breathable Waterproof Socks from Waterfly would be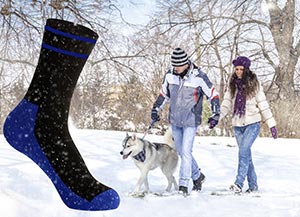 a much-appreciated gift for any outdoor enthusiast!
Nothing puts a damper on an outdoor excursion quicker than a pair of soggy socks and cold wet feet.
These high-tech socks feature a triple layer of fabric, including a waterproof layer that prevents water from beading and a mesh layer to keep feet fresh and dry.
The inner layer is made of Merino wool and nylon to keep feet cozy and warm.
2. Wood-Burning Small Lightweight Stove that charges your Gadgets
Generate your own electricity for all your gadgets with this lightweight wood-burning stove from BioLite. Now that is a really unique gift for any camper or adventurer.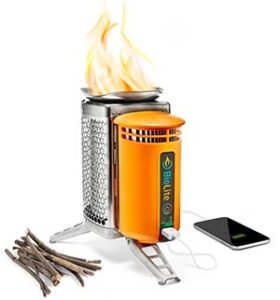 The stove uses an internal battery to help quickly ignite a fire and convert that heat into energy for your electronic devices.
The stove burns sticks and twigs, unlike other products that use kerosene or propane, thus helping reduce your carbon footprint.
Cook dinner, roast marshmallows, and charge your gadgets — the BioLite CampStove is the perfect solution for your outdoor adventures or emergency preparedness!
3. Wild Hybrid Portable Espresso Maker for Best Coffee Outdoors
Nothing gets our motors running like a strong shot of freshly brewed espresso, and now we can bring this creature comfort along wherever we go, even when sitting around the fire in the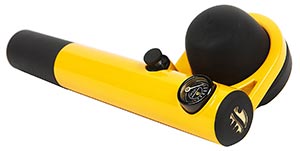 great outdoors!
It's no wonder that this handy little Espresso Maker from Handpresso really has people raving!
It's portable and lightweight, weighing in at only a pound, and is versatile, accepting both loose coffee grounds and E.S.E. pods.
Read More- 10 Best universities for outdoor adventurers 
For the coffee addict in your life, it's the perfect present. After all, we can go without a tent, but we can't go without our daily dose of caffeine!
4. Outdoor Mosquito Repellent Appliance for Mosquito-free Camping
Nothing can ruin a perfect outdoor evening quicker than blood-thirsty mosquitos! Never fear,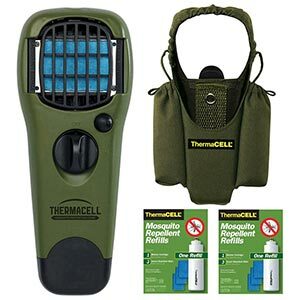 there's a simple solution. ThermaCell has created a mosquito repellent device that really delivers! Pop the repellent in the holster and turn it on to enjoy up to 12 hours of an area of 15 feet by 15 feet of pest-free protection.
The product uses all-natural chemicals and comes with two replacement refills. The army green holster can be attached almost anywhere, making the device truly portable.
Field tested by the Department of Defense, this product has been endorsed by the North American Hunting Club, Good Housekeeping Institute, and Parade Magazine, plus it comes with a one-year warranty.
5. RUCK UP Tactical Christmas Stocking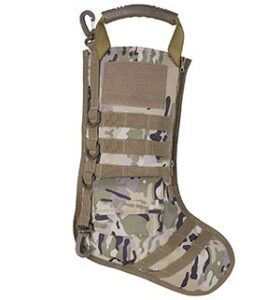 For the tactical enthusiast on your list, be sure to check out this rugged and rough stocking from RUCKUP.
It's got all the compartments and clips and hooks necessary to hold their holiday spoils.
Decked out in heavy-duty camo and sporting lots of storage space, it's the perfect fun way to showcase all their presents.
It comes complete with a drawstring and zippered pouches and a velcro strip for attaching patches.
6. Inflatable Air Lounger for Camping, Beach, or Pool
Lazing away the day outdoors is an ideal way to spend your weekends, and Legit Camping has taken relaxation to the next level with their Inflatable Lounger.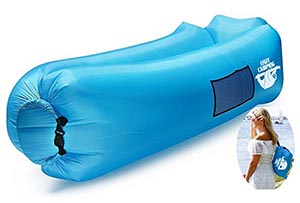 First, they addressed the inflation problem of competing products, where you must either be standing in gale-force winds or run around to create such currents in order to fill up the couch.
Not so with Legit Camping's Inflatable Lounger! A few simple waves and the panels plump up quickly!
Plus, the lounger comes equipped with some convenient extras, like a bottle holder, two catch-all pockets, secure stakes, and even a bottle opener!
7. Luci Outdoor 2.0 – Inflatable Solar Light
The MPOWERD Luci Inflatable Solar Light is a super outdoor gift idea! It's one of the most useful and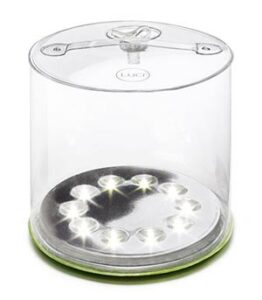 socially conscious gifts on the market this year. This little lantern is inflatable, which makes it ultra-compact and ideal for backpackers and campers, not to mention it's waterproof, fully submersible (IP67 rating), and durable. The solar panels soak up the sun's rays, transforming a 7-hour charge into up to 12 hours of light. The lantern has three settings — bright, super bright, and 1-second flashing.
The company created this product in an effort to empower people all over the world without access to clean energy, particularly in low-income countries, where families relied on toxic and expensive kerosene lamps to function after dark. Now students can study into the night, clinics can stay open later, and each year 320 kg of CO2 emissions are prevented.
8. Kelty Discovery Low-Love Seat for Camping Lovers
Lean back with your sweetheart and enjoy the brisk outdoor weather cozied up together!
This love seat has a durable steel frame covered with a quilted, insulated, and puncture-resistant fabric.
Bundle up, head outside, and lean back together with a tasty beverage, which you can put in the insulated beverage holders of the adjustable armrests.
You can even use the padded carry case as a multifunction roll-tote bag, convenient for hauling back firewood or carrying other gear. Ideal for camping, road trips, or even music festivals, this is the perfect gift for the outdoor enthusiast who insists that comfort is still king!
9. Survival Grenade – Emergency Key Chain Survival Kit
Toss one of these into your favorite survivalists' stockings and they're sure to have blast!
SharpSurvival's grenade is an Emergency Key Chain Survival Kit with a range of practices tools woven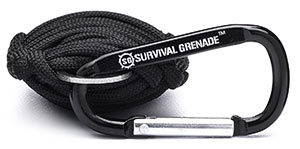 cleverly up into a fat grenade of nine feet of Paracord.
Hidden inside, survivalists will find a stainless steel eye knife with a serrated edge for scraping or sawing and a smooth blade for cutting.
There are also various fishing supplies — hooks, weights, swivels, and line — as well as a bundle of cotton tinder, a flint fire starter rod, and a sheet of tin foil.
10. Shock- and Waterproof Solar Powerbank with Flashlights
This hurricane season has been particularly brutal, and there were many households wishing they'd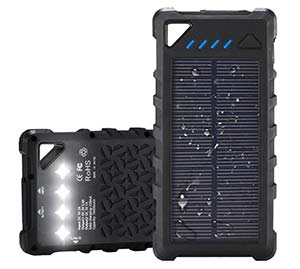 had one of these durable FKANT Portable Power Banks to help keep them going. Waterproof and shock-proof, it can hold a generous charge of 16,000mAh and has two USB charging ports.
It has a three-mode LED flashlight (normal, SOS, and strobe) and can be charged via solar panels or a USB cable.
With up to 13 hours of charge available, it's an ideal solution for emergency preparedness or simply travel convenience.
11. LifeStraw Steel Personal Water Filter for Hiking, Camping, Travel
Water is life, but not all water is safe to drink. We suggest giving the outdoor enthusiasts and globe trotters on your list a truly unique Christmas gift, the LifeStraw.

Show them you care and help prevent the nasty stomach bugs that might ruin their next epic adventure.
This stainless steel straw features a dual-layer filtration system to remove contaminants and neutralize taste and odor. Approved by the FDA and exceeding EPA standards, this is the perfect stocking stuffer for aficionados of survival, international travel, or outdoor exploration.
12. The Bushcraft Fire Starter Necklace
This necklace is the perfect marriage of practical functionality and elegant natural design.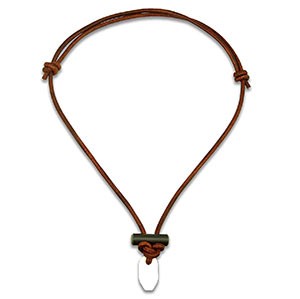 Cut into a modern geometric shape, a white Zirconia ceramic scraper dangles below a black Ferrocerium barrel toggle on a strip of leather cowhide. The necklace is knotted in traditional mountaineer style and can be adjusted to fit necks up to 26 inches wide.
With its sleek unisex design and practical charm, the Fire Starter Necklace is a smart purchase for anyone on your gift list who identifies as a survivalist or fashionista!
13. NEMO Stargaze Recliner Luxury Chair
Looking to add a little luxury to your stargazing adventures? Then look no further, because the NEMO Stargaze Recliner is here to transform your interstellar musings!
Sit down and lean back, as the open night sky sparkles above you, and you dreamily swing below contemplating its magnitude and beauty.
The chair is built with aircraft-quality steel and designed to maximize comfort, including a supportive headrest to prevent neck pain, padded armrests and a cup holder, and an easy recline and glide system that works smoothly on any terrain. It's also lightweight, water resistant, and comes with a padded carrying case.
14. Zippo Hand Warmers
Keep your hands cozy and comfy, even when exploring the frigid beauty of a winter tundra,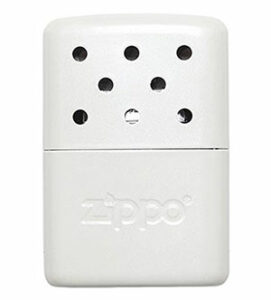 with one of these sleek, flameless Zippo Handwarmers. This handy design promises users up to 6-12 hours of toasty warm digits even on the coldest of days. To get started, simply fill it up using the provided cup, spark the burner, pop the top back on, and slip it into its protective pouch.
Now you'll have a bit of warm respite whenever you most need it, during early morning hunting trips, arctic explorations, or blustery sporting events cheering on your favorite team!
15. Floating, Rugged, and Waterproof Wireless Bluetooth Speaker
In our humble opinion, no event is complete without some great tunes to inspire and move us. Cue the perfect gift for the outdoor enthusiast and music lover on your list, the ECOXGEAR ECOXBT Speaker, it floats in water!
This bright little beauty will crank up all your outdoor adventures, providing wireless connectivity and full-range speakers in a rugged, waterproof package.
Connect to your favorite playlist via Bluetooth or the Aux-in jack. You can also use the Bluetooth connection and microphone to take calls. The speaker has a dual handle design, includes a carabineer for hands-free attachment, and comes with a rechargeable Lithium Ion battery and a USB to AC power adapter.
16. Trek Light Gear Double Hammock for Camping & Outdoor Adventures
Give your special someone a gift that will really bring the two of you closer together, like the Trek Light Gear Double Hammock! This hammock is the largest on the market with an expansive 6.5 feet by 10 feet of durable nylon fabric, which is water resistant, quick drying, and lightweight.
Also, Read- Hiking Guide for beginners 
The double hammock is perfect for snuggling up with your sweetheart or stretching out by yourself, either diagonally to lie flat or horizontally to wrap yourself up like a toasty little burrito with all the extra cloth.
17. PowMax Diving Mask Camera
Here's a great gift idea for diving and photography enthusiast.
The PowMax Diving Camera frees up your hands for swimming without breaking the bank.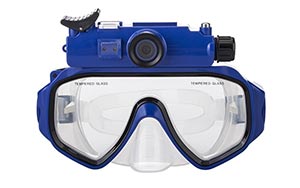 The diving mask is lightweight and simple with a detachable waterproof camera above the diving glasses. Find more cheap waterproof cameras here.
The camera, boasting a 5.0 Megapixel CMOS sensor and an aperture of F/2.4, uses a micro SD Card and a rechargeable battery. It can be submerged up to 30 meters underwater for 3 hours. Free up your hands and dive in to explore!
18. Unique Wine Glasses for Outdoor Use
Just because we enjoy the outdoors, doesn't mean we're barbarians!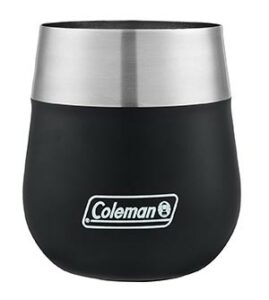 Break out the wine, please, and don't forget the Coleman's Claret Wine Glasses! These insulated stainless steel wine glasses from Coleman's are the perfect gift for the wine aficionado and outdoor lover.
They have all the necessary requirements: a contoured shape and thin rim to ensure the best wine taste and aroma, an insulated stainless steel body to maintain an ideal temperature, and a coated outside and padded bottom to prevent condensation and slipping, and spillage.
The only thing missing now is a great bottle of red (or white!)
19. Solar Crank NOAA Weather & Emergency Radio
Versatility is king in this multipurpose, multi-powered Emergency Radio from RunningSnail.
The radio — which is also a flashlight, table lamp, and charge station — is powered by a rechargeable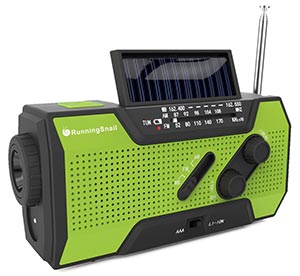 battery, which can be charged via solar panels, hand crank, USB cable, or batteries. The radio transmits AM/FM stations and broadcasts local emergency weather alerts.
It also has a flashing red SOS alarm function, in order to signal for help or warn others of danger. Don't forget you can also use it to charge your mobile devices via the USB port.
20. YETI Hopper Flip 12 Soft Cooler
From the trusted people at YETI, here comes the ultimate in the long-lasting chill and ultra-portable cooler comfort.
This convenient little cooler promises to keep ice frozen for days, with its patented ColdCell™ closed-cell rubber foam insulation.
The leakproof HydroLok™ zipper ensures that the temperature stays frosty inside and that no leaks will rain on your parade.
The HitchPoint™ grids allow for easy attachment of accessories and the ergonomic shoulder strap is plushly padded for your carrying comfort.
21. Campfire Defender – Pro Camper Kit
Don't let foul weather put a damper on your outdoor adventures! Defend your campfire from the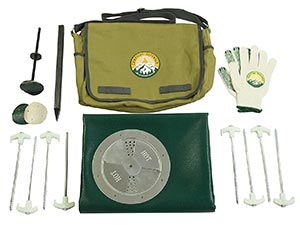 unforgiving elements with this unique camping gift idea.
The kit comes with a durable, fire-resistant tarp that can be stretched over a fire or smoldering coals to protect them from strong winds and rain. An aluminum alloy vent at the top allows you to control airflow while a fire stake lifts the tarp from the fire pit and lateral stakes secure the edges of the tarp.
The kit allows campers to conserve hot coals throughout the evening, waking up to perfectly glowing embers in the morning.
22. Sand-free Mat – Sand, Dirt & Dust disappear before your eyes
Let's face it, the outdoors can be gritty and dirty at times, but that's all about to change with this amazing new mat!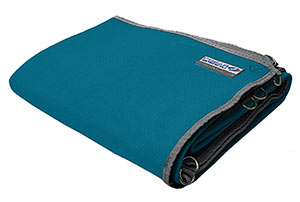 Disappear, dirt, disappear!
The outdoor mat from CGEAR features a revolutionary new design that allows small particles like sand, dirt, and dust to fall through the dual-layered fabric, but not to rise back up.
The mat was originally invented for military use but has since been adapted for more leisurely purposes, like lounging around sand-free on the beach or setting up a sweet clean campsite in the woods.
23. Swellpro Waterproof Splash Drone 3 for Filming & Fishing
Look! It's a bird, it's a plane… no, it's a fully integrated modular amphibious flying platform!
Whoa! This waterproof drone is a highly adaptable system, capable in all types of weather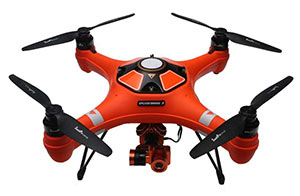 , and can launch and land both on or off the water.
It's the perfect tool for many purposes, such as aerial filming, survey work, search and rescue missions, and even fishing. The camera is 4K high definition and can even film underwater!
The drone comes with an LCD screen remote controller and has Safe Flying Features to assist with hassle-free flight plans, such as Follow Me, Mission Planning, Tap-to-Fly, Return Home, and Auto-land.
24. Emergency Paracord Bracelets with Flint Fire Starter, Whistle, Compass, Scraper,Knife
We'd be willing to bet that this is the most multipurpose fashion accessory and uncommon outdoor gift you'll ever see!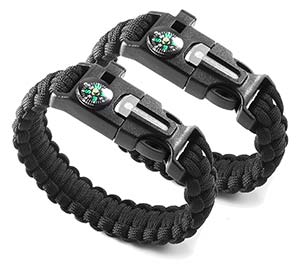 The Emergency Paracord Bracelets from X-Plore Gear provides almost everything you'd need to survive outdoors. Apart from its hardcore style, this handy accessory comes with a flint fire starter, a compass, an emergency whistle, and a scrape/cut tool.
Even the versatile Paracord band, which comes in several colors and three sizes, could be dissembled for survival tactics.
It's the perfect gift idea for every outdoor adventurer and survivalist!
25. Aqua Notes Waterproof Notepad
We've all been there. You're in the shower and you've just had a brilliant idea! But like the s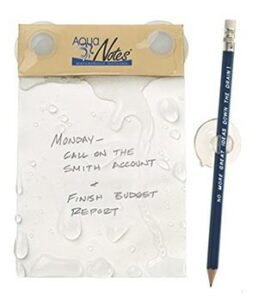 udsy water swirling down your drain, your brilliant idea slips away before you've had time to jot it down. Well, no more! Now you can let your creative juices flow just as freely as the faucet with the Aqua Notes Water Proof Note Pad. The notepad comes with a suction cup to attach to the shower wall and a pencil.
Use the specially coated sheets to record great ideas or leave little notes for your loved ones. Even better, give a notepad to the outdoor or boating enthusiasts in your life!
26. Pro-Pointer Waterproof Pinpointing Metal Detector
For all those friends who we swear are part pirates, we've found them a great unique gift!

Transform an ordinary day at the beach into an underwater treasure hunt with the Garrett Pro-Pointer Waterproof Pinpointing Metal Detector.
This handy device is waterproof and submergible up to 10 feet. It sports three levels of detection sensitivity, has a convenient reset button, and comes in a hard-to-lose fluorescent orange. It also has an LED flashlight and comes with a 9-volt battery and a belt holster.
27. Tactical Pen for Personal Protection and Self Defense
If we found a pen stuffed in our stocking, we might feel a little bah humbug, but trust u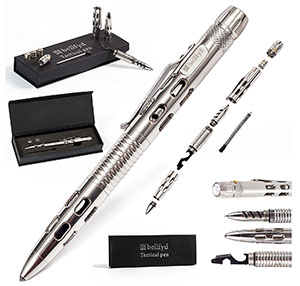 s, any tactical enthusiast would be thrilled to receive this multi-functional pen! It's a tactical powerhouse, with a glass-breaking tip, an LED flashlight, a five-function tooltip, and a ballpoint pen. The multipurpose tooltip is really useful and features a bottle opener, serrated blade, HEX wrench, screwdriver, and scraper.
Durable and discreet, this is an essential self-defense and survival tool, and it comes packaged prettily in an elegant gift box, the perfect outdoor gift for the tactical enthusiast.
How to get one of these cool Outdoor Gifts?
From essential survival tools to socially conscious gifts and luxurious outdoor accessories, we've given you some really cool and unique gift ideas for the outdoor enthusiast in your life!
Share these Unique Outdoor Gift Ideas with friends and family, if you want something from this list!
Go ahead and share some of your favorites with them and perhaps you will receive some of these for your next birthday!
Happy outdoor exploring!
27 Unique Gift Ideas for Outdoor Enthusiasts (2022 Guide)