What do white peacocks, albino crocodiles, four-leaf clovers and 100% waterproof hiking backpacks have in common? They're some of the rarest things to find on planet Earth, especially the waterproof backpack for hiking.
Ironically, you might even spend hours hiking through your local outdoor, sporting goods store in search of the mythical creature – the backpack that is.
Ok, maybe we exaggerated a little, but when you do find a waterproof backpack, it's not n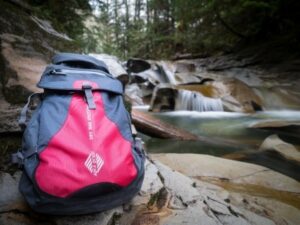 ecessarily always suitable for hiking. Most backpacks for hiking simply come with a rain cover, or may be made of waterproof material, but not necessarily constructed 100% waterproof.
For all-weather hikers like you and us here at All Things Waterproof, we don't want to bother with rain covers, umbrellas, or buckets to scoop the water out of the depths of our backpacks.
So, we've spent countless hours scouring various sources to find, research, and bring you the best waterproof hiking backpacks, and waterproof backpacks that are great for urban, or water-sport use, and also suitable for hiking.
Our Editor's Pick
Our seemingly endless search has turned up one of the top of the line waterproof backpacks, the Sea to Summit Flow DryPack  (Click here to Read Customer Reviews on Amazon).
This backpack is best suited for wet, rainy and snow laden terrain. It's made of high quality, abrasion resistant, fully seam-sealed nylon fabric, which gives it the strength, durability, and waterproofing we hikers need.
If you're into watersports such as kayaking, canoeing, and rafting, this backpack is perfect for you. However, it's not restricted to those activities, some folks have mentioned that they've used it for climbing, mountain biking and lightweight treks. All round it's a comfortable, lightweight waterproof backpack that stands out above the rest.
What are the Advantages?
Now that we've covered our top 8 waterproof backpacks for hiking, we'd like to outline a few advantages of actually owning one of these rare gems. As we've previously discussed, not all waterproof backpacks advertised are actually 100% waterproof. So, the question lies, "Why do we want a waterproof backpack for hiking?" Here's why:
 Waterproof
Well, this goes without saying. Hiking gear is obviously useful and can be generally expensive. The more waterproofing measures manufacturers put into your waterproof backpack, the better, and although it may cost a bit more, it's absolutely better than having to purchase new gear or personal effects due to water damage. Thankfully, you'll no longer need to be caught in a downpour fiddling with a rain cover, nor will you have to find quick shelter to save your gear from the elements.
 Comfort & Support
The comfort of your backpack is paramount. Lugging around large loads out on the trail without the right amount of shoulder, waist, and lumbar support can lead to health complications and injury. Achy feet, back, legs and shoulders can be quite demotivating, but luckily, the majority of waterproof backpack bags are padded, with excellent airflow designs, increasing hiker comfort.
 Durability
Most waterproof hiking bags have exceptional seam work. Welded seams are the most popular in these types of bags, and are generally better than sewn seams. A welded seam is where two materials are fused together by heat and pressure, which increases strength and water-resistance. Conventional sewn seams leave stitch holes in the fabric and require sealing to prevent water intake.
 Weight
A waterproof backpack is generally lighter than a backpack equipped with a rain cover. A backpack with a rain cover compartment includes; stitching, additional materials required for the stitching; internal binding that protects the stitching; sealing required to protect the stitch holes, and of course an internal waterproof bag for protecting electronics. In the grand scheme of things, these things add up to the overall weight of a backpack. Backpacks such as the Aqua Quest Stylin and Aqua Quest Sport are some of the lightest waterproof backpacks that we reviewed.
The 8 Best Waterproof Backpacks for Hiking & Outdoor Activities Reviewed
Sea to Summit Flow Drypack
What's Good?
Our #1 pick in waterproof hiking backpacks, constructed of TPU laminated, nylon fabric, this backpack is great for wet conditions. Welded, seam-sealed construction gives this 35L volume backpack the ideal characteristics any hiker should look for in a waterproof backpack.
Sturdy, durable 7075 aircraft alloy buckles gives the feeling of security and durability. It's constructed of TPU laminated 420D nylon, and in case you were wondering, TPU stands for thermoplastic polyurethane – the fancy stuff that gives this backpack its strength, low-temperature performance, and abrasion resistant qualities. Stretch mesh side pockets, along with the internal zippered pocket, are great for storing personal items.
The Sea to Summit Flow Drypack boasts a sleek design that makes it an ideal fit for climbing, mountain biking, and of course, hiking. It's a very multifunctional backpack. Its ventilated shoulder straps and removable waist strap provide comfort under heavy loads.
 What's Not So Good?
It's not an ideal backpack for carrying larger valuables such as laptops. However, with that said, it's probably not a good idea to take your laptop hiking or kayaking. Your call.
All round, a great waterproof backpack, with little to no negative reviews. We easily give it a full 5-star rating.
Mountain Hardwear Scrambler RT-35 OutDry Backpack
What's Good?
This nylon constructed waterproof rucksack is guaranteed to keep its contents completely dry. It's been rain room tested, with an OutDry built main compartment this is ideal for wet, long treks.
A rucksack of this stature boasts a comfortable fit, with fully padded straps for the waist and shoulders, to provide optimum support for heavy loads. Adjustable sternum straps provide additional stability.
Two deep side pockets are good for water bottle storage, or other gear and a large front stash compartment (with drainage) is great for storing wet gear. Most Amazon users found it to be spacious without being bulky, and great for rock climbers, hikers, and skiers.
 What's Not So Good?
There weren't many downsides associated with this waterproof hiking rucksack.
One user reported that their RT-35 was broken right out of the box, but this appears to be an isolated issue.
Aqua Quest Sport 30L
What's Good?
This bag is pretty much the carbon copy of the Aqua Quest Stylin, with similar features such as the roll-top closure that protect against quick temporary submersion, and it's durable, tough design.
It's marginally lighter than it's counterpart, weighing in at 1.7 lbs, and is built for comfort with padded, adjustable and flexible straps. Where the Stylin seemingly falls short, the Quest Sport makes up for.
It comes with water bottle pockets, secured to the sides with strong elastic drawstrings, and seven reinforced webbing loops on the front for various attachment options. Unlike the Stylin, the Sport is great for functionality, as opposed to the flashy hype.
 What's Not So Good?
Similar to other backpacks of this kind, there's no compartments nor padding, so we'd advise you against packing a laptop or any other fragile, valuable possession in this backpack. The RipStop material is very smooth and glossy and can slide off rock surfaces quite easily.
It's also been mentioned that once water breaches and penetrates the bag, it creates a pathway through capillary action and soaks right in. So, we advise against extended periods of water submersion.
Aqua Quest Stylin – Dry Bag Backpack 30L
 What's Good?
This is one of the best waterproof hiking backpacks and is great for extreme adventures. Thanks to its roll-top closure, this bag can withstand quick temporary submersion – once again, going sunny side down in your canoe. It's also great for protecting your valuable items from snow, dirt, mud, etc.
At 1.9 lbs, this bag is ideal for long treks. Although lightweight, this backpack is durable and owes its durability to its 420D RipStop fabric, TPU laminate (that word again), and DWR coating (durable water repellent). These make this the ideal waterproof backpack for your rough and tumble, down and dirty, adventures.
Adjustable and padded shoulder, chest and waist straps contribute to the comfort of this dry bag. The back panel is of a soft air-mesh for added back comfort. A very multi-purpose and multi-functional waterproof backpack, the Stylin is suitable for hiking, the beach, travel or vacations. It comes with an optional, fully reflective front panel for added safety, and security.
 What's Not So Good?
The only major potential drawback we could find with this waterproof backpack is the lack of a bottle holder. A water bottle is a necessity on any hiking trip, and it can be slightly annoying having to make space in your already overcrowded hands for a bottle. Apart from this minor detail, this bag gets a 4.6-star rating from us.
DryCASE Masonboro 35L
What's Good?
Standing at 4" tall and 9" wide, this backpack is ideal for the active person who prefers to bring their belongings out with them. It features a 2-way purge valve that allows you to inflate or compress the backpack, and some folks have used it as a drainage tool.
The 100% waterproof main compartment of this backpack, constructed with Gadwall marine-grade waterproof vinyl, can store up to 35 liters of water to be used as a shower, cooler or for general purposes.
An internal waterproof pocket keeps smaller items dry, and a side water bottle holder stores your personal hydration, out there.
Importantly, your shoulders, waist, hips and lower back are all supported and protected by waterproof, padded straps.
 What's Not So Good?
A few people have complained the main top buckles for this particular waterproof backpack consistently pull apart. This may have been a few isolated cases, but still worth mentioning.
There've also been complaints about the water bottle holder being too small. In all, it's a great backpack with a few minor cons that are far outweighed by the pros.
Rockagator RG-25 40L
What's Good?
This 100% waterproof backpack is said to be quick submersible – so if you go inverted in your canoe or kayak, your belongings shouldn't get wet. This dry bag/backpack is best suited for wet environments and features a 40 Liter capacity main chamber, secured with a roll-top closure.
Padded support offers excellent shoulder, back and lumbar support for long, heavy treks, and a splash-proof front zippered pouch can secure loose personal articles.
The RG-25 is said to be a multi-functional backpack, that when packed and sealed tightly, can float if dropped in the water – no more kissing your belongings goodbye should your pack fall into the drink.
A great additional feature is the large reflective strip across the back of this backpack, which is great for nighttime use, and avoiding any potential vehicular accidents.
 What's Not So Good?
We've noticed a few complaints with regards to water entering the zipper pouch on the front, so we highly recommended you keep items, that won't be a hindrance should they get wet, in that section of the backpack.
In addition to that, there've been concerns regarding the integrity of the seams. A few users mentioned that the seams tend to rip after a while, and although the bag itself is great, the material it's made of is vulnerable to damage.
COR Dry Bag Roll-Top w/ Padded Laptop Sleeve – 25L & 40L
What's Good?
This waterproof bag , in the 40L version, is said to be big enough to carry a several days worth of travel. The roll-top closure provides 100% waterproofing, and floats safely in water should that occur. This makes it ideal for kayaking, canoeing, and the watersport adventures.
For the hikers who want to bring along valuables, such as laptops and various electronics, there's an interior padded laptop sleeve. Should the rain drench your backpack, should it fall in the water, or should it even take a bump on rough terrain, your electronic devices will remain unscathed with the COR Waterproof backpack.
There's a water-resistant, zippered front compartment, constructed out of 500D PVC tarpaulin, that protects its components from the elements and environment. A heavy duty, waterproof backpack like this requires good lumbar support, and this sure does.
A comfortable, back panel with airflow design, along with padded shoulder straps ensures comfort on heavy-load hikes. To top it all, super reflective patches on the face of the bag and shoulder straps, provide security in low visibility conditions.
 What's Not So Good?
This backpack has been highly regarded as a strong, durable, tough, and 100% waterproof bag, however, a few people have mentioned that the 25L version of this bag does not come with waist straps. The 25L is great for a short 1-2 day trip due to its reduced capacity, whereas the 40L is great for extended trips.
Overboard Pro-Sport Backpack
What's Good?
With welded seams and a Fold Seal System, this is yet another top line 100% waterproof backpack. It's perfect for water sports, sailing, rafting, and kayaking.
The roll-top closure system significantly contributes to its waterproofing in the event of quick temporary submersion, and hook and loop fasteners contribute to its Class 3 Waterproof Rating.
The Overboard Waterproof Pro-Sport's front panel, sides, and base are constructed of tough, resilient PVC tarpaulin, giving it durable qualities for rough conditions.
When it's properly packed and sealed, this backpack floats. Overall, this is a great waterproof backpack for hiking, and other outdoor activities.
 What's Not So Good?
If you wanted to take your laptop or other electronics with you, this might not be the backpack we'd recommend. There's no internal, padded compartment for this purpose, and you'd be pretty much doing so at your own risk.
Other Ways to Keep Your Stuff Dry
So, let's say your budget doesn't quite fit what you've been seeing tagged on the waterproof backpacks, or maybe you really like your current not-so-waterproof backpack and have little intention of getting rid of it, you can consider a few alternatives.
Waterproof Cover
If you're terribly concerned about moisture and rain seeping through your backpack, then you can consider buying a waterproof pack cover. Some hikers have used trash bags big enough to fit inside their backpacks.
Dry Bags & Pack Liners
Using dry bags and pack liners on the inside of your backpack is always a great idea for valuables, such as laptops, tablets, and other water sensitive devices. Apart from the obvious electronics, other items like clothing, food, first aid, and sleeping bags should be kept dry. Unless of course, you enjoy a damp, cold sleep.
Of course, the ideal option would be to use a combination of the two aforementioned items. A good pack cover, coupled with a dry bag or pack liner is almost as good as a 100% waterproof backpack. Be sure to adequately air and dry the pack liner after use to avoid mildew and funky smells.
Conclusion
Well, hopefully, we've given you some insight into choosing a good waterproof backpack for your next hike in wet weather.  If you are still undecided which hiking bag you like, we recommend you to read this review of our Editors choice Backpack. Snarky Nomad also wrote an interesting article about the bizarre scarcity of waterproof hiking backpacks. They may be classified as rare, mythical creatures, but they do exist.
We found that our research turned up plenty backpacks, that were advertised as waterproof, but the smallprint indicated they only use a rain cover as waterproofing.
Many manufacturers claim their backpacks are waterproof, however, this is not always true. Although the materials used are waterproof, the construction and design may not necessarily warrant the backpack itself as being 100% waterproof.
Another point to remember is, never completely rely on backpacks. They are man-made and can be damaged, or flawed in their design. Be sure to put your electronics, valuables and anything near and dear to you in dry bags, or some type of water-resistant pouches. After all, a small purchase now can save you a big expense later. See you on the trail!
The 8 Best Waterproof Hiking Backpacks That Really Keep Your Gear Dry