Do you love hiking in the rain just as much as I do? If you don't, you really should consider changing your mindset. This article will teach you all the essential tips and tricks that allow you to enjoy a hike on a rainy day without being uncomfortable, cold and miserable. 
The High Divide Trail is one of the most challenging and fetching loop hikes in the Pacific Northwest. It also can be one of the wettest, due to its location on the Olympic Peninsula of Washington state.
Just west of the Divide trailhead lies Forks, where it rains 120 or more inches a year—roughly .3 inches per day or 212 days a year.
The point? Many of the greatest trails to hike are also the wettest.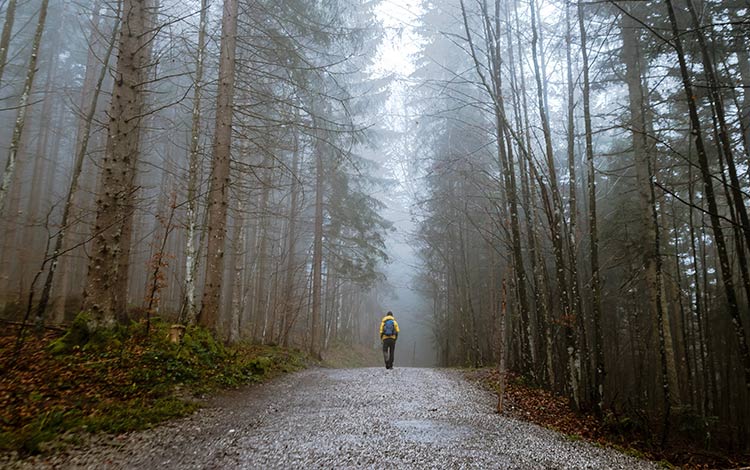 Advantages of Hiking in the Rain
Many hikers curse the rain without blessing it for the verdant surroundings it brings to their hikes: tall, ancient conifers, bubbling streams and species galore, whether animal or plant. Chances are good, that you will see more wildlife than on a dry day.
The message here is to go with the flow (pun intended).
Enjoy the solitude such weather can bring on the trail, its rain-induced lushness, old-growth timber stands and plentiful water refills.
In fact, there are some instances when the rain helps you along the way—water sources for filtering your drinking water being just one.
 Also interesting: Science Reveals What Regular Hiking Does to Your Body and Brain
Best Clothing for Wet-Weather Hiking
Before learning how rainy trails can aid your pursuit, let's look at how best to seal up not only your gear and food, but your body, and starting from bottom to top.
First Essential: Keep Your Feet Dry
Cold, sloshy foot beds in the boot pose the best odds for an otherwise arduous hiker to turn around a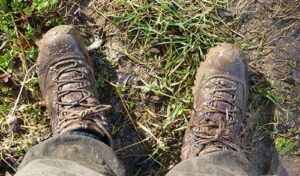 couple miles into the hike and head back for the car at trailhead. You can't hike anywhere when your feet fail you. Foot moisture causes blisters and simply makes any hike so uncomfortable that you don't enjoy a single second of it.
Still, you must rigor your mind to the fact that on such trails or in such climates, as that found on the High Divide, your feet are going to be a little moist along the way, no matter how painstakingly you try to keep them dry.
Many waterproof hiking boots will live up to their name, but only in accordance to how many streams your boots ford, the length and depth of the snow fields they traverse, the volume of ground cover or understory vegetation they encounter and where they are located in camp while you sleep.
Hiking Boots Materials
First, make sure your boots contain blends of material that dry quickly between the rains or under shelter. Gore-Tex, eVent, Sympatex and similar materials will dry faster while keeping your feet sufficiently dry on the trail. Genuine leather excels in fending off water but is not the fastest drying material, nor the lightest. You must find the best of both worlds.
Good gripping boots go without mention in wet conditions. Vibram or sticky rubber lugs designed to channel water toward the edge of the soles work well on exremely wet trails and surfaces.
Storing and Drying Your Boots
When putting your boots away, be sure your tent vestibule is ample enough to keep them from being sprayed by rain. If it isn't, put up with crowding the tent floor a bit by keeping them at the foot of your sleeping bag.
If you bring camp shoes (i.e., sandals or sneakers), place your wet hiking boots into the breeze and off the ground when it is dry around camp at night. If campfires are allowed, they can help quicken the drying time.
Hiking Socks
Finally, nix wool socks and go with synthetic blends. Wool can keep water off your feet for a while, but only by absorbing and holding it. This can lead to slippage which can lead to blisters, not to mention added weight on your hiking feet.
Consider waterproof socks, they can give you an extra layer of protection. Always carry an extra pair of socks to allow wet socks to dry out.
If your socks still end up soggy, try boiling water and pouring it into a Nalgene bottle or other and rolling the sock over it.
Protection for Legs, Torso and Arms
Focus on keeping water off of your skin. Avoid all cotton clothing, including your underwear. Use poly-pro, moisture-wicking tights and hard shells around them on arms and legs until that gets too darn cold, when you can pull the fleece out of your pack.
Waterproof Hiking Pants and Gaiters
Leave your comfy, cushy down and baggy, water absorbant hiking pants at home. Instead, go for waterproof hiking pants. They will protect your legs from the water that's running down from your hiking jacket and backpack. They also shield you from cold wind and wet vegetation along the trail.
For mid-layers consider using fleece and synthetic emulations of down, such as Prima-Loft, TurboDown, Alpha fiber and PlumaFill or other polyester-based fibers. Rainy weather means plenty of chill in the air but not like frigid alpine snow.
If you use these shells and liners, you might find you save weight overall, despite the lightness of down—another advantage to rainy hikes below alpine, where cold and damp can be hazardous.
Hiking gaiters will keep your lower legs dry and prevent water running into your boots. Just make sure to wear them under your rainpants, so that water running down your pants can't run under the gaiters into your boots.
Waterproof Jacket and a Hat
A hooded, waterproof hard-shell jacket and a wide-brimmed hat save you from a lot of wetness, especially in the forest understory. Unless you are a macho hiker who fears looking too wimpy, consider a lightweight but sturdy hiking umbrella.
Backpack and Gear
Your body can't stay dry unless your extra clothes in the bag stay dry. The ideal way to protect your extra clothes and gear is a waterproof hiking backpack. If your budget doesn't allow for one, go for a waterproof backpack cover, as detailed below.
Backpack Rain Cover
If you haven't sprung for one yet, or your pack did not come with it, procure a raincover for your backpack. Make sure it fits to the point of being able to tuck a little of it under the bottom. Also be sure it cinches or zippers completely.
If you want to save some dollars and go 1960s-style, you can use a 30-40 gallon garbage bag or convert a large poncho.
Water-tight Containers and Dry Bags
Speaking of pack contents, use lightweight dry sacks and water-tight containers or cases for electronics and similar gadgets, even if you are using a waterproof backpack. Keep an eye on the weight of all these containers in the meantime.
Yes, zip-locking plastic bags are lightest, but don't force them into vulnerable places inside the pack—those spots where pressure from heavier gear can break the bag or seal.
Waterproof Lighter or Fire-starters
Bring a waterproof lighter to be able to start a fire in any condition. Especially make sure your fire-starter rests in a waterproof container. Dryer lint works wonderfully because it squishes down well in a plastic bag while earning the title of lightest item in your pack.
Stoves are usually pretty resilient to rain, but keep them in their accompanying plastic containers.
Hiking Poles
No matter how athletic you are or how well your boots grip slick surfaces, the rain gods will find a way to upend you. A good set of collapsible hiking poles can prevent this.
Tips for Trail Breaks during Rain
Here's one cautious reminder about trail breaks or respites on the trail during a rain: Make sure you sit down on something narrow enough to not soak the bottom of your pack with a puddle.
Some rocks are pocketed or pocked while some logs are, well, waterlogged. Either of these natural chairs can soak yours and the pack's bottom. When taking a break in the rain, try to find overhangs or a thick canopy overhead.
Setting up Camp in the Rain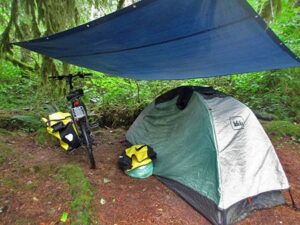 A tarp is good to have when setting up a tent in the rain. First install the tarp and then set up your tent beneath it. You also might want to look at finding a footprint for your tent with walls around it. It adds some weight but can keep you from incurring a full-on bath in your sleeping bag or at least deter the rude awakening.
Don't forget to also dig a trench around the perimeter of your tent to divert water flow.
Prepare Your Gear before the Rainy Hike
Remember to grab the NikWax, Trek 7, Aqua Armor or other waterproofing agents out of your hiking closet. Before leaving home, dowse tent, jacket, boots or any other rain-exposed gear with these spray-on sealers.
Just follow directions closely; piling on the spray sometimes causes compromise to your materials. Natural sealers, such as Sno-Seal beeswax, pose little risk to fabrics.
Best Type of rain-slogged Destinations
The hiking destination you choose can make the entire difference between an enjoyable wet hike and a miserable one. Try deploying the following criteria.
Old growth timber usually flourishes in lower elevations—well below the alpine line—and offers a great canopy in the rain. Such is the case with many hikes in the Pacific Northwest, especially the North Cascades and the Olympic Peninsula. The Northeast also offers old-growth cover in particular regions, as does Oregon and northern California.
Avoid Trail Hazards
Select a trail that is managed well for erosion by our best trail friends: volunteer trail workers.
Trails with steps, ladders, walking bridges and strategically located puncheon minimize your chances of slipping and tumbling.
Also look at trails with a minimum of stream crossings. Heavy rain will swell streams and create new ones, thereby increasing the risk factor for hikers with a loaded pack.
Minimize the Risk of a Lightning Strike
Rain will also bring lightning in high or semi-high country. Try to choose a hike with few wide-open escarpments or plateaus in high elevations.
Boulder overhangs, bunkers and caverns on a route will minimize the risk of a lightning strike tremendously.
Watch the Forecasts
Pay attention to weather service and forest service forecasts in the regions of the trail on your candidate list. Examine how many days or weeks it has rained along a particular trail or wilderness.
Sometimes you might be wiser to choose a rainy hike a week or two later than originally scheduled if the precipitation report proves debilitating.
Sing in the Rain
An enjoyable hike in rain country requires an appreciation for the rain. Enjoy its tendency to turn other hikers back, the possibility for lighter materials in your pack, its void of stress in knowing you will have plenty of sources for water refills, its void of a scorching, unforgiving sun and the abundance of life it brings at every juncture of your route.
Hiking in the Rain – Tips & Tricks How To Enjoy a Rainy Day Hike