Take a look at our Best Waterproof Boots Guide for whatever endeavor your footwear demands.
Whether hiking, camping, running, hunting or simply tromping through snow to school or work, the worst way to start your morning is with drenched socks and the sounds of slosh and swish inside your boots — even worse than grounds in your morning coffee.
This is why your selection of waterproof boots for any of the aforementioned activities becomes as crucial as choosing whether to wear polypro or cotton when wetness from sweat or weather are sure bets.
You need to know the construction of a boot and its materials in order to choose the pair best for your purposes in wet or snowy conditions. You may not love to work as much as you love to fish, hunt or hike, but work can be much more excruciating than normal with the wrong boot and your outdoor pastimes something less than revitalizing.
Waterproof Hiking Boots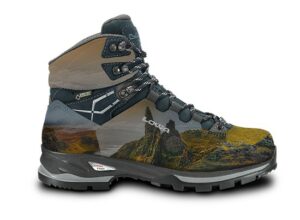 Remember these keywords when looking for hiking boots: dryness, comfort, sturdiness, weight and grip (you don't want to slip from a boulder when crossing a stream or deep puddle).
For instance, nubuck leather, complemented by Gore-Tex in the upper, neoprene liners, Vibram or sticky rubber lug soles and a one-pull lacing system all add up to a boot most likely to keep your feet dry.
In short, focus on the outer material of a hiking boot, its liner, membrane, ankle height and ability to dry relatively quick when choosing a boot for trodding the wilderness.
Antimicrobial elements in the liner and foot bed as well as breathable linings aid in keeping sweat and microbial moisture at bay.
The lower the collar of a boot, the greater the incidence of water entry in puddles and streams. Cleats or tread designed to flush wet mud from between the lugs also helps in preventing slips and falls into a puddle or creek.
Weight comes into play when an already heavier-than-average boot fails to wick away moisture or keep it from soaking into the uppers and footbed. The weight of water proves formidable to weary legs.
Merrell, Asolo, Salomon, Garmont, Vasque, La Sportiva, Tecnica, Scarpa and Columbia's Montrail—not necessarily in order—are brands worthy of your search.
You may be a wintertime hunter or angler, an alpine hiker or climber, a worker or student who must walk to the job site in the dead of winter.
If you want to keep the same boots on once you arrive to your destination or site, you must make sure your boots not only defy water or snow, but keep your tootsies warm at the same time.
Look at the same watchwords as suggested for hiking boots with an extra eye dedicated to ankle height, liners (even if it means a little extra weight) and upper materials. Gore-Tex and neoprene as a replacement for rubber portions of a boot can help to lighten the load.
The collar of a boot plays a more critical role with winter boots than with hiking boots, especially when it comes to snow. Find a winter boot that cinches at the top of the collar. Alternatively, a built-in gaiter works marvelously. Buy an auxiliary gaiter if necessary.
Northface, Sorel and Columbia rank among other bootmakers offering waterproof boots that provide comfort and agility.
You need only ask a commercial fisher, a UPS driver, a logger or a field biologist how important waterproof boots are, to know that one of the most important decisions at work will be which pair you decide to buy.
Not only must your boots keep moisture out, but they must also meet the standards of comfort, foot protection from impact, and breathability.
If you work through winter snow, you must also choose a boot that meets the qualifications of the aforementioned winter boots.
Moreso than boots for recreation, you must consider the durability and lifespan of a work boot. You don't want to dent your paycheck by replacing your boots every six months or a year.
It must also protect your feet from heavy objects prone to land on your feet—e.g., steel-toed and strongly-shanked boots. Therefore, waterproof work boots warrant additional criteria when compared to other waterproof boots.
Read More- Top 10 Hunting Waterproof Boots 
Stalwarts among the waterproof work boot genre include Red Wing, Caterpillar, Wolverine, Carhartt, Keen. Kamik and Irish Setter make solid rubber work boots with high uppers for those who need to wade a little to get the job done.
Waterproof Hunting Boots
The first rule to finding the best waterproof hunting boot is to know how, when and where you prefer to hunt.
A tree-stand deer hunter, for instance, require a boot that also keep he or she warm during predominantly stationary hunts.
A pheasant or elk hunter needs to look at the comfortability and lightness of a waterproof boot while a duck hunter must consider the height of the boot's collar and perhaps even resort to hip boots or chest waders with boots.
What you hunt for and where you hunt—whether in spring, fall or winter—will determine your criteria for a solid hunting boot.
To start looking for a good waterproof hunting boot, check out brands such as Irish Setter, Kamik, Northside, Bogs, and Red Wing. Many other brands also offer great utility for the combo of wet and dry terrain, including virtually all mentioned under hiking boots.
Waterproof Fishing Boots / Wading Boots
Any angler knows that to catch a fish you must get to where your prey dwells. The best rod and reel will not do that; only your boots or waders will.
Much like some of the aforementioned categories, dryness and grip win the day when it comes to fishing boots.
If you often walk distances between fishing holes, you can add comfort and breathability to the equation.
If you fish mostly in a boat, you may not need waders but boots that grip the deck while offering a high enough upper to keep water from sloshing over and inside the boot, especially while launching or wenching in the boat at the launch site.
If you wade streams, you must find the best waterproof waders and boots over their stockings that will keep you from slipping on slick surfaces, such as river rock. Much like hunting, consider what type of fishing triggers your fancy the most, and match the boot to it.
Great waterproof fishing boots and waders are built by Hodgman, Simms, Redington, Korkers. Orvis, Patagonia and Frogg Toggs, depending on the type of fishing you most enjoy.
Sifting through Waterproof Membrane Patents
Gore-Tex, DriPore, N2No, Vapour-Tec, oh my! Perhaps a dozen different waterproof membrane patents find their way to the waterproof boots you sift through on the store shelf or online. Each touts infallible resilience to water or moisture in general.
No matter the name of the waterproof fabric or material, you must determine how much walking you will be doing on dry land and, therefore, how much the foot bed breathes or ventilates. You must determine the depth of water or snow in which you will be trodding; therefore, the impenetrability of the boot to water—from its collar to its outsole. Make sure the entirety of the boot incorporates the waterproof material.
Gore-Tex, for instance, offers the best of both worlds: ventilation and water resistance. Some of the other patented brands do the same. On the other hand, neoprene and similar fabrics that cannot incorporate a porous structure fall short when it comes to breathing or venting the foot of sweat and other moisture.
Also Read- Best Waterproof lighter
Most of the boot brands mentioned above use a verified, tested waterproof patent. Whether working or playing, just make sure you know how critical ventilation and the wicking of moisture will be in your given pursuit.
Final Considerations
Of course, the cost of a pair of boots always weighs heavily in a worker's, angler's, hunter's or other recreationally minded person's criteria for the right boot. Of course, the one aspect you can't compromise is the waterproof capability of said boot.
Do your homework; read online reviews; price the array of waterproof boots; know what you will be doing and what you will need for your particular outdoor endeavor.
How to Choose the Perfect Pair of Best Waterproof Boots for Outdoor Buffs ?