Backpack? Check. Map and compass? Check. Jacket and gloves? Check. Waterproof Hiking boots?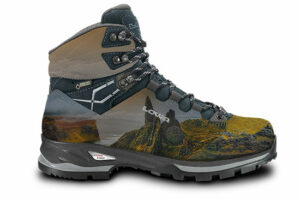 Err…not quite.
So, it's time to round up the group for another hiking trip, and you just realized you're desperately in need of a new pair of hiking boots.
Well, "need" is all relative, but nothing says relative like seeing your socks peeking at you out on the trail. As avid hikers, we all know the easy part is the hike itself, whereas, the hardest part is the dreaded question,
"Of the millions out there, which pair of hiking boots should I get?"
Luckily you've got us here at All Things Waterproof to solve that cringe-worthy question for you. We've based this article on countless hours of research, asking the experts, and of course, reading lots of reviews.
We personally understand that rummaging through the jungle of available products can be a treacherous, demotivating hike in and of itself, so that's why we're here to save you time – which we both know is always better spent outdoors.
All the products we recommend, we would also recommend to our friends, and we always have your special requirements in mind because after all, we're hikers too. So, let's get to it.
Editors' Pick: Vasque St. Elias Gore-Tex Boot
After completing our extensive research we found the Vasque St. Elias Gore-Tex Boot (Compare price at Backcountry.com and Amazon.com)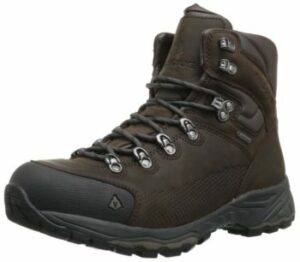 , a mid-weight, leather backpacking boot to be the best choice for most people. Vasque has truly proven that they are committed to making innovative and functional footwear, that inspires you to get outdoors.
This boot boasts a comfortable fit straight out the box, with a soft upper area (around the ankle), yet the sole is rugged which makes it ideal for heavy duty backpacking. Its midsole with EVA cushioning pods delivers great comfort, and the speed lacing system guarantees you won't be that one person.
Gore-Tex waterproofing technology significantly contributes to it being our Editors' Pick, and can withstand treks through small streams, lake shores, and trudging through snow. Leather and warm environments don't usually qualify for the 'Cutest Couple' award, but these boots rate pretty high in breathability and aren't too hot on the feet. As far as traction goes, you can safely challenge frozen ground, loose leaves, and any steep, slick trail.
Also interesting: Hiking in the Rain – Tips & Tricks How To Enjoy a Rainy Day Hike
Buying Guide: What To Look For in a Waterproof Hiking Boot
We think it goes without saying that, the kind of boot you need depends greatly on the activity you have in mind, but given the dizzying array of choices out there, this is easier said than done.
So, that's what we at All Things Waterproof are here for, to help you figure out the answer to, "How do I go about choosing the perfect boot, and what exactly am I looking for?" Pay close attention, it's easier than you think.
First of all, there are a few things you should consider when looking for hiking boots. Water resistance, comfort, weight, traction, stability, and durability are of the highest priority, and should always be kept in mind.
We'll get into those in depth in a minute, but first, let's look at the various types of waterproof material. After all, no-one wants to hike in wet socks with wet feet.
Don't forget to check out our list of the best hunting boots here, some of them are amazing for hiking as well.
Types of Waterproof Materials And Breathability
Many of the waterproof boots that we've researched come equipped with Gore-Tex technology. Gore-Tex is a waterproof, breathable fabric membrane that was invented in the 1960's and is also used in other outdoor gear like rain jackets.
Its ability to repel liquid water, while allowing water vapor to pass through, along with its lightweight design, makes it very popular in the hiking boot and hiking gear community in general.
However, with that said, Gore-Tex is not the all and end all. We've seen brands such as BDry and Waterproof Pro, to name a few, providing equally as good waterproofing solutions for your boots.
With waterproofing, one has to consider breathability. Coated fabrics tend to be very waterproof but lack breathability in comparison to membrane laminates. We've found boots with Gore-Tex fabric linings tend to have better breathability than other types of boots. Find out more about them here.
The more breathable the fabric, generally the better, but it also depends on your level of activity. In cold, dry weather a super breathable material can lead to heat loss, but in hot weather proves for great ventilation.
The same can be said in relation to waterproofing, and the key to any waterproofing membrane or fabric is to let water vapor out, and prevent liquid from entering. We strongly believe, of the various brands, Gore-Tex has managed to maintain an extremely high level of waterproofing while staying very breathable.
You may also like: The Best Waterproof Socks – A Must-Have for Dry Feet in the Outdoors
6 Things you should keep in mind when choosing your Hiking Boots
No-one wants to hike in wet feet unless you're a duck. You're not a duck and even if you were, ducks don't hike. So, it goes without saying, at All Things Waterproof, this is top of the list for us.
Dry feet are not only key to comfort in hiking but the key to maintaining good health and warmth during your hike, as wet feet can lead to all types of complications. We've found the boots that featured Gore-Tex waterproofing technology, really proved themselves in breathability and waterproofing.
Oboz Beartooth's waterproof boots have BDry waterproof membrane linings that do a great job keeping water out, and the Ariat Terrain H20 Hiking boot incorporates Waterproof Pro technology that can battle the elements relatively well.
So, you've managed to keep your feet dry, but when it comes to boots, comfort is equally paramount. Most hiking boots tend to be ready to go out the box to the foot, and we owe this to their increasingly lighter design. The Dunham Cloud Mid-Cut boot has proven to be the most comfortable of the lightweight boots, with the KEEN Targhee II Mid, being a close run in.
In the mid-weight category, we found the Lowa Renegade to be quite comfortable, but most, if not all, the heavyweight category hiking boots require a break-in time.
We've found there to be a few main questions to keep in mind when considering comfort:
How does your foot generally feel in the boot?
How much wiggle room do your toes have? Do you feel pinching or discomfort when you're all laced up? Can you feel every single pebble underfoot? These are some important things to consider.
How does the ankle collar feel? Is there a potential for ankle soreness after a few miles? Based on the type of hiking you do most frequently, would these boots offer the ankle stability required? Do you mind trading ankle stability for comfort?
This may seem like a minor detail, but, how's the lacing system? Are you going to keep the group back by constantly stopping to re-tie your laces? How many lacing eyelets are there? What are these eyelets made of?
How well does the boot breathe? Are your feet going to be hot and sweaty in the summer? Are your feet going to be cold and wet in the winter? Based on the type of hiking you do most often, does the breathability of the boot suit you and your hike best?

Weight
"Every step you take. Every breath you make." Granted, it's a great song, but it's not a great sound when you're lugging heavy boots, attached to your feet, up the trail. The heavier the boot, the more energy you will expend.
Your goal in choosing a hiking boot should be finding the lightest model that meets your stability and support needs. A boot such as The KEEN Targhee II Mid, which was the lightest boot that we tested, is an ideal hiker for easy terrain that doesn't demand much stability and support.
With that said, it's all dependent on the type of hike you're planning, and the load you're expecting to carry.
Any hiker knows good footing and grip reduces the likelihood of injury. Clean, brand new boots are of no use to a broken foot in a cast.
Hiking boots rely on their lugs, sole, and other performance characteristics for their traction attributes, and their job is to keep you vertical, and not horizontal, on the trail. So, this is a very important consideration to take when selecting boots.
Boots like the KEEN Targhee II Mid, Quest 4D 3, and the St. Elias all stood out when it came to traction on wet rock and slippery surfaces. Once again, the traction in a boot is all dependent on the type of hiking and terrain, but definitely nothing to be overlooked.
Compared to other types of hiking footwear, ankle stability is definitely a defining point with hiking boots. We found that boots with a mid height or full cut can reduce the possibility of injury.
Given that your ankle, as pivot point of the foot, is one of your most important assets for hiking, it should go without saying that it should be supported and protected as much as possible. Apart from the injury aspect, good ankle support reduces the chances of your feet tiring quickly on long, heavily loaded hikes.
When choosing a boot, it's important to remember that the taller the ankle collar, the better, especially with regard to support and stability.
Unfortunately, boots are not immortal creatures from a mystic world, so it's expected that they will wear out. Seams will come apart, waterproofing will start to leak, and eventually the sole will leave the boot – i.e "sole" not "soul". Either way, the boot dies.
It's been said that with the modern, lightweight construction of boots, they don't last like they used to. Some folks argue that boots are not as sturdy as they once were, but on the flip-side, they're definitely a lot lighter.
One of the key things to consider and keep in mind, more often than not, the biggest compromises in today's hiking boots is grip vs. sole. It's a tradeoff of sorts, finding the fickle balance between a boot with the grip of an eagle, but with a sturdy, durable sole that won't cave at the first sight of rough terrain.
As far as durability is concerned, we found the Power Matic, Scarpa Kinesis Pro, and the St. Elias to be the most durable. Of course, what some folks fail to remember is, general care of your footwear can prolong its life significantly.
Let's have a look at our expert's picks in detail.
Best Lightweight Boots
Lightweight hiking boots tend to focus on comfort out of the box and are of a minimalist design to keep weight low. They are generally light and comfortable, and the ankle collars are cut lower than traditional boots. These are great for light hikes with a few snacks and water, a great choice for day hiking on smooth trails, and are designed for experienced backpackers with strong feet.
This is one of the lightest boots in our list. A combination of leather and textile, this boot is comfortable, and boasts great traction with minimal break-in time. The KEEN.DRY waterproof breathable membrane keeps your feet dry and comfortable, while the aggressive outsole has 4mm lugs ensuring great traction control.
It's an affordable shoe and we would recommend it as one of our Top Choice products. Although there have been a few complaints on it's sole protection, with some of the threads on the sole becoming dislodged, the majority of folks regarded it as a decent lightweight boot. The general consumer opinion we found, is that this is a great boot that will grip almost anything.
Dunham Cloud Mid-Cut
Of the lightweight hiking boots, the Dunham Cloud Mid-Cut boots are hands down the most comfortable. Made of leather, its mid-cut collar significantly contributes to its comfort. Dunham fully loaded this shoe with modern features guaranteeing stability and comfort. TRU-TRAK multi-directional rubber outsole provides complete traction control. EVA midsole provides shock absorption, with waterproof nubuck leather uppers.
We found this to be generally a good boot, but a few users felt that its waterproof features were good, but not super-amazing. They recommended these boots for average rain and small puddles, but not conditions much greater than those. Notwithstanding that, the general consensus is that these boots are lightweight, very comfortable and durable.
Midweight Boots
These have a more substantial construction than their lightweight counterparts. They are usually of a leather design with higher ankle collars, sturdier midsoles, and shanks, with more durable uppers. These models usually provide increased ankle stability, especially in comparison to lightweight boots, and are great for more traditional style backpacking – out and about carrying all your gear.
Vasque St. Elias GTX
The flagship of the mid-weight category, the Vasque St. Elias GTX boot has earned its title as Editor's Pick. These boots simply inspire you to get outdoors. Gore-Tex waterproof construction with performance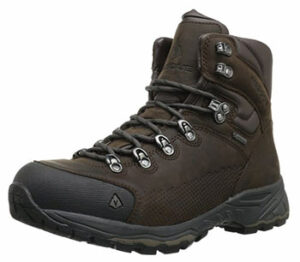 comfort technology and lightweight EVA cushioning pads in the midsole complement its full grain leat
her design and Vibram rubber soles.
It's been reported that these boots have amazing grip through slippery riverbeds, snow, ice, and gravel. No matter the adventure, whether long or short, the St. Elias is the ideal "go wherever" boot for the "do whatever" hiker, and this is what has gained it a 4.8 star rating.
Available in slate brown/beluga or bungee cord/neutral gray, Vasque really nailed it with this waterproof leather boot. We can rest easily knowing we've recommended this as our Editor's Pick. This is one the most durable and all round best waterproof hiking boots we've seen, and we certainly hope you live long enough to wear them out.
The Salomon Quest 4D 3 GTX can be summed up in three words: signed, sealed, delivered. Salomon's signature stability, water-resilient seal and delivery of function come right out of the box once you get home and start testing this new boot on the trail.
You pay the extra buck for this kind of quality, but if you're the type who keeps a hiking or climbing guide beneath your pillow at night, then it is the boot made for you.
First, it delivers strength without the added weight. Its 2lb 13.2oz still qualifies it as a mid-weight boot. Meanwhile, you get the tallest ankle collar in its genre and optimal sealing of tongue to collar for a boot that won't leave your toes stinging cold after fording a snowmelt-driven rivulet.
The impenetrable yet solid collar design also adds to ankle stability as the forefoot takes care of business below the feet and arches with the help a flexible upper and solid Contagrip outsole. Agility comes from a design modeled after Salomon's rugged trail running line, delivering comfort and strength.
The Asolo Fugitive GTX has been quite popular for some time. Its stiff midsole combined with a flexible ankle collar make it very interesting.
Boots with such a solid foot support are usually paired with more substantial upper support for better ankle stabilization. There are some hikers, however, who prefer the Asolo Fugitive's setup.
Although we've found there to be a few reports of the sole separating from the boot, it's said to have really good grip, with Wool/Black water resistant suede.
It's not our favorite pick of the mid-weight boots and has a bit of ground to cover if it's going to live up to the St. Elias or the Salomon Quest 4D.
Stand up to any terrain, particularly rough terrain, and any type of weather with the Lowa Renegade GTX Mid.
This boot features water-resistant nubuck leather upper, and a footbed with comfort perforations significantly improving breathability.
It has a full-length nylon shank and a Vibram Evo outsole, with seamless, waterproof Gore-Tex lining.
This is a great boot for your next weekend adventure.
The Salewa MS MTN Trainer Mid GTX is an agile and light boot. This mid-weight hiking boot is a classic for your favorite via feratta and great for technical hiking and trekking.
It has a unique construction that offers increased ankle comfort. This boot is highly recommended for a range of difficult terrain and incorporates a Gore-Tex fabric within the shoe lining.
It appears there have been a few complaints with regards to its narrow fit. Some folks even recommend that it would be a good idea to buy these boots a half size up.
These are a decent, affordable pair of hiking boots. They're comfortable, durable and very good on the waterproofing front. Waterproof Pro keeps the elements out, and ATS technology stabilizes and supports the foot – reducing fatigue.
Made of leather, these boots have been said to be a bit on the stiff side, but in general seems like a nice overall shoe. It's affordable, and the general consensus seems to be, that it's a somewhat stiff shoe but overall very nice. We'd say, definitely give them a shot.
Snow is coming? Check out the Best Winter & Snow Boots here…
Heavyweight Boots
Significantly heavier, much more durable and incredibly waterproof. Full grain leather uppers, matched with burly insoles that focus on support, make these boots ideal for the roughest terrain.
If you're looking for something to support a heavy backpacking load and unforgivably rough terrain, the Sacrpa Kinesis Pro is the boot for you. We consider this boot a bit of an "overkill" for most hikers, but the foot and ankle support is unbeatable.
Performance Comfort Gore-Tex keeps your feet dry, offers otherworldly waterproofing, and a legendary performance Vibram sole provides maximum durability.
We found this particular boot to be on the heavy side, and not quite ready to wear straight out of the box. However, overall, an excellent boot, with the best waterproofing of all the heavyweights we've researched, and a pretty decent price tag for what you'll be getting.
Danner Men's Crater Rim 6" GTX
Danner is a great name in the boot industry. They made a rugged, tough, and durable boot with the Crater Rim 6' GTX.
It features a waterproof and breathable Gore-Tex membrane, an abrasion-resistant rand, and a deep multi-directional lug pattern – for optimum traction.
It's been said these boots were designed to conquer the path from trailhead to summit. One thing that we found to be a minor recurring complaint is in the shank design. Danner used a fiberglass shank instead of the common steel design. Quite a few people found this to be a bit off-putting given the price point of these boots.
However, at the end of the day, the fiberglass vs. steel debate boils down to your personal preference. From our end, a great boot and a great buy.
Asolo Power Matic 200
The Asolo Power Matic 200 is a burly and stable platform. It's said to be a lifetime investment for most hikers and backpackers, and it can handle heavy backpacking over rough terrain.
Boasting high-quality leather, these boots are amazingly good over wet terrain, on rocks, in streams and in the mud.
They do not breathe as well as other lighter boots, so we wouldn't recommend them for your summer treks, but definitely, once Spring and Fall roll around, they would be our go to boot. Top it all off with top shelf waterproofing, and great comfort and these boots can be hard to beat.
Also interesting: Best Waterproof Work Boots for Higher Comfort and Dry Feet
How to keep your Boots Waterproof and increase their Life Expectancy
So, you've successfully muddled through the endless list of waterproof hiking boots and their respective reviews. You've made up your mind as to which boot suits you best. Without any reluctance, you've purchased those boots and baited the delivery guy every day until you received your boots. Now, the only thing left to do is to carry out few preventative measures that can prolong the life expectancy of your "kickers", especially with regards to waterproofing.
Most of the boots we reviewed are of leather construction. We all know leather and water aren't necessarily the best of friends, so we've compiled a list of a few products to consider, with regards to leather treatment of your boots. These products will significantly benefit the durability and waterproofing of your footwear.
Leather Cremes and Wax
Nikwax
These guys offer an exceptional line of leather, and fabric conditioners, in spray, cream or liquid form. Nikwax Creme, Nikwax Tech Wash, Nikwax Fabric & Weatherproof, and Nikwax Tech Wash/TX.Direct Waterproofing are a few of their waterproofing products that can be found at Amazon.
Beeswax-based Waterproofing
In addition to these products, you can also consider a beeswax-based waterproofing for your boots. These products are affordable and generally easy to apply.
This is a great product made from Bee's Wax, not grease, oil or animals, and it stands the test of time. It dries to a solid wax and maintains its flexibility in freezing temperatures. We highly recommend this product.
Check Price and reviews on Amazon
JobSite Waterproof Beeswax Paste
This is another good beeswax based product. This offers great waterproofing against rain, snow, sun, and even salt. Definitely a good buy.
It should be noted that leather conditioners usually need to be reapplied every few months, depending on how many miles you put into them.
Seam Sealers can double the Life of the seams in your Boots
Seam sealer is also a great way to prolong the life expectancy of your hiking boots. When applied to the stitching in high wear areas, in about 30 minutes of your time, you can just about double the life of the seams in your boots. Seam sealer can also keep out sand, grit, and dirt, and of course, the added benefit is, it keeps water out too.
Gear Aid Seam Grip Seam Sealer
This is a great seam sealer product that you can pick up for little money. It's easy to apply and it helps waterproof your gear for any outdoor activity. It even won the Backpacker Magazine's Editors' Choice Gold Award.
Never dry your Leather Hiking Boots with Heat
Apart from the sealers and waterproofing, a good ole' soft bristle brush and warm water are great for general cleaning to rid your hiking boots of any mud, dirt, and debris. Boots should be dried slowly out of direct sunlight, and definitely not in the clothes dryer – we won't be friends anymore if you do such a thing.
Equally, campfires for drying are an absolute "NO!" Leave the campfire drying for the cowboys. Generally, try not to leave them lying around in your car, especially if it's hot. Soles can delaminate easily due to heat. Follow these guidelines for boot care, and your boots just might outlive you.
If you still can't decide which is the best waterproof hiking boot for you, check out this excellent guide on Outdoorgearlabs.
Also read: Hiking 101 – Tips for Beginners & Essentials Packing List
The Best Waterproof Hiking Boots 2020 – Buyer's Guide