Okay, we'll admit, no-one says that, but at All Things Waterproof, we do. In the seemingly never-ending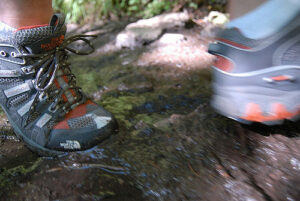 chaos of available products, we know personally that it's difficult to find the right pair of waterproof hiking shoes. You can spend hours, days, or even weeks simply searching around, yielding little to no results. Well, fear not, we're here to save you time and energy and share with you our curated list of the top hiking shoes.
Due to their relatively less demanding nature, for day hikes and fast hiking, most people prefer hiking shoes instead of boots as they're generally great for lightweight backpacking.
Our Editors' Pick
After nagging the experts, digging up the bowels of the Internet, and dedicating our research to user reviews, we've chosen the KEEN Targhee II  as our Editors' pick and best value product in this category.
This shoe stood out to us the most because of its unique shape and its footbed that quickly molds to your foot's shape – resulting in an exceptionally comfortable fit. It's great for light travel, fast short-distance hikes and off-road day hikes along the trail.
So have a look at our list, and hopefully, we can help you come to a fantastic decision that won't disappoint when you get out there.
Our Editor's pick, the KEEN Targhee II is a great shoe for lightweight, day hikes. 4mm multidirectional lugs provide unparalleled grip for most off-road challenges. A removable, metatomical footbed, that quickly molds to your foot's shape, provides personalized comfort, as well as a great heel support structure.
This leather hiking shoe features a KEEN.DRY waterproof, breathable membrane that keeps your feet dry, and is popular for anyone who's looking for a decent hiking shoe that they can slip on every day. It should be noted that a few sources indicated these shoes have potential durability issues in long distance backpacking. Nonetheless, we consider these shoes a great buy.
Salomon Men's X Ultra 2 GTX
This is the hiking shoe fit for mixed terrain and a moderately loaded backpack, depending on the mountain and its alpine levels. It tackles sources of moisture as well as any hiking boot might if it did not sport a mid-cut height or better.
Be careful when shopping, however. There are two versions of this shoe. One is waterproof and the other is not. Like the North Face Ultra 109 GTX, Salomon's waterproof X Ultra applies polyurethane-coated leather and Gore-Tex breathable membrane, but adds a synthetic textile. Somehow, it all equates to a hiking shoe that keeps you drier than the Ultra 109 and most other hiking shoes.
Stability is perhaps this shoe's strongest attribute. An EVA midsole provides great cushioning and its Contragrip sole sticks to rock, mud, snow, ice and mossy logs as well as any of the best boot soles.
Ever gripe about the discomfort of Salomon's long standing "Quicklace?" The X Ultra 2 GTX finally eclipsed this design malady that didn't fully form a comfy or effective lacing. The laces now cinch down uniformly and don't rattle loose like the Salomon hiking shoe of old.
Salewa Wildfire S GTX
Described as a very stable and grippy shoe, we highly recommend the Wildfire S GTX for the adventure seeker. Made of a ballistic mesh, with a shell of EXA technology, this shoe is lightweight, abrasion resistant and durable.
A Gore-Tex membrane provides optimal waterproofing and breathability. This hiking shoe wins in comfort, with a blister-free footbed that can adjust to the hiker's needs, a 3-D insert with grid wrap and ankle cage – optimal comfort and amazing support.
A Vibram traction outsole provides for grip across maximum terrain. One notable complaint with these shoes is that most people with narrow low-volume feet found them to be uncomfortable, and would recommend purchasing a half size larger.
The North Face Men's Ultra 109 GTX
This is the bridge shoe that ushers you from a ridge to the summit, as long as it is not the summit of a Whittier, Rainier or Denali.
You might even view it as a morph between hiking boot and trail runner, something worthy of a through-hiker around Rainier in late summer, all due to its support and comfort perks.
It negotiates terrain like a mid-cut boot but feels like something you would run in. It delivers comfort via a thick sole for shock absorption and above par breathability due to a combo of mesh and Gore-Tex.
It ensures comfort further with a solid toecap that allows the toes plenty of circulation and protection from descents on talus or scree. In wet terrain it counters with a polyurethane-coated upper which tests decent for water resilience, but could be better.
Regardless, all of its comfort and protection devices are achieved without adding weight to the shoe, which is lighter than most in its class at just under 1 lb., 16 oz.
Garmont Dragontail MNT GTX
The first that pops out when you look at the DragontailMNT is how clean, sleek and stylish these hiking shoes look. Boasting similar stability and support to that of alpine boots, but more freedom of movement. The upper material is made of suede leather and a breathable Gore-Tex Extended Comfort membrane provides waterproofing and breathability.
A dual-density, microporous midsole offers stable foot support, and a breathable foam PU coated insole provides added comfort. We couldn't find much negative feedback on this shoe, which is exactly why we highly recommend it and have included it on our list. Definitely a good buy!
Merrell Men's Moab 2
Jack Kerouac used hiking shoes, but today's hiking shoes are by no means Jack's, which is probably a good thing. His feet probably felt a little soggier after a day in the hills than those of us who put on a pair of Merrell Moab 2 shoes.
Merrell could be called the poet laureate of hiking shoes because of Moab's legendary status among go-light hikers. The Moab 2 lives up to all the standards set by the original Moab of fame and even raises the bar a bit.
It still offers two versions: a Moab 2 WP, proving plenty waterproof, and a Gore-Tex shoe which does the same but with a tad bit less weight. A strong toecap might incite you to rough up this shoe in a fashion unbecoming for a night out with friends, but probably still fitting for a poetry slam at a local pub.
A roomy toe box and cozy heel cap, along with a well-molded insole, lend to its feel as a street shoe. Mr. Kerouac would certainly feel comfortable in them, whether slumming around North Beach or the Cascades.
Oboz Sawtooth Low BDry
The first word that comes to mind when you see this shoe is traction. A 3D molded external heel counter provides ultimate support and heel lock for stability. Oboz BDry waterproof and breathable membrane are responsible for the waterproofing with this shoe.
Dual-density EVA foam midsole, dual-density BFit foam insole with a formed heel cup makes for optimal comfort and support. Some users have mentioned that people with narrow ankles and feet might not experience the best fit with these shoes, so that's something to consider when purchasing these.
North Face Hedgehog Fastpack GTX
This is the ideal fast packing shoe. Constructed of mesh and PU coated leather, this lightweight shoe incorporates Cradle heel-stability technology for a stable, smooth ride.
Gore-Tex technology provides breathable waterproofing making this shoe great for rain or shine, and Vibram soles guarantee a solid grip on any terrain. Durable, rugged and stable are a few words used to describe this hiking shoe, but a few people found them to be narrow and not true to the size. It should be noted that these complaints were in the minority, and the pros of this shoe far outweigh the cons.
Vasque Mantra 2.0 Gore-Tex
This is a low-cut hiking shoe with the stability and grip of a backpacking boot. It is ideal for long-distance hikes, as a result of the design of the Vibram outsole. The nubuck and mesh uppers increase the durability, stability, and comfort of this shoe.
Waterproofing is provided by a Gore-Tex membrane, water repellent laces and seam sealing technology, allowing this shoe to be able to brave any weather conditions. It should be mentioned that these shoes had quite a few negative reviews with regards to the fit. Users complained that they were a narrow, tight fit, especially in the toe area.
Vasque Talus Trek Low Ultradry
Made of nubuck leather, this is a decent shoe with great arch support and comfort. A dual-density EVA footbed and molded polyurethane midsole are what provide this shoe with its exceptional support. A Vibram outsole contributes to good grip across varying terrain.
After a while it's been reported that with some miles on them, the shoes look like they've been through way, although the structural integrity  remains unscathed. If you can overlook the superficiality, these shoes prove that they can stand the test of time even though they may not look it at the point in time.
Hiking Shoes vs Hiking Boots vs Trail Runners – What is Better?
As we've discussed, the best use for hiking shoes is lightweight, fast, day hiking with little to no backpacks, nor heavy loads. Additionally, short-distance hikes and treks are best suited with waterproof hiking shoes, as compared to waterproof hiking boots which are more commonly used in heavy load, rough terrain, extreme condition hiking.
Hiking shoes tend to be far lighter in weight than boots. For obvious reasons this works as an advantage because we all know the lighter the footwear, the easier and more endurable the hike.
The majority of the hiking shoes we reviewed featured dual intensity insoles and midsoles, offering outstanding ankle and arch support, as compared to hiking boots that may be a lot stiffer, and require lengthier break-in times – hiking shoes can be practically ready to be worn straight out the box.
With lighter weight shoes come added mobility, agility, and speed. Hiking shoes would generally be more flexible and offer a greater range of motion than most hiking boots would.
For some hikers that are into more long-distance hikes, there are some brands of hiking shoes on the market that are suited for that style of hiking. For example, the Vasque Men's Mantra 2.0 Gore-Tex is perfect for long-distance trekking.
Some hikers use waterproof trail running shoes for this purpose as well. Although trail runners share quite a few of the same advantages as hiking shoes do, the hiking shoes beat them out in a majority of areas for long-distance hiking. But at the end this comes down to personal preference.
Also interesting: Hiking in the Rain – Tips & Tricks How To Enjoy a Rainy Day Hike
Buyer's Guide – How To Choose The Right Waterproof Hiking Shoe
We've figured it prudent to provide you with a guideline, of sorts, to keep in mind when choosing the right hiking shoes. Once you follow us here, you can't go wrong.
Weight
Firstly, the weight of any shoe is very important, especially in hiking. We can't stress enough that the heavier the shoe; the faster your feet will get tired, thus reducing your endurance. The less motivated you will feel to hike, and the less distance you will be able to cover.
Comfort
Comfort goes hand in hand with weight. Actually, we consider comfort to be a byproduct of weight. Heavy shoes = not so comfortable shoes. Apart from weight, shoes with padded, dual-density insoles and midsoles are inherently more comfortable than shoes, or boots, with thin insoles or stiff design features.
Many of the hiking shoes we reviewed in this article featured "quick memory" type footbeds, molding almost instantly to the hiker's feet, offering exceptional and added comfort. The great thing about hiking shoes is they usually come ready to wear right out the box, with no break-in time required.
Foot Support
Good foot support is always important when choosing a hiking shoe. Sturdy, durable uppers, along with stable heel and arch support can make the world of a difference on the trail. Believe it or not, a hiking shoe offering a solid support system can extend the length/distance of your hike significantly. This means you can hike longer and still have feet when you get home – no achy, sore, blistered feet.
Waterproofing
Water resistance/waterproofing is our middle name here at All Things Waterproof. Simply put, no-one wants to walk around in wet shoes. In cold conditions, this can be potentially hazardous, and in warm conditions, this is usually just downright gross. You can imagine the scents and smells after a long, wet hike. Equally, looking for hiking shoes that have added wind proofing is something you might want to consider as well.
Durability
Lastly, durability is a quality that should be a high priority in deciding on any hiking shoes that you're interested in. It's no use spending your hard earned money on a pair of shoes that's going to leave your toes exposed to the elements after the first few miles. Materials like leather, structured mesh, and other synthetic materials prove to be some of the highest quality and most durable featured in the construction waterproof hiking shoes.
Conclusion
As you can see there are many kinds of good hiking shoes, but only 12 made it to our list of the best waterproof hiking shoes. Hopefully we could help you pick the ones that suite you best. Now get out there. Happy trails!
Further Reading: KEEN Targhee II Hiking Shoes Review | What's Better For Hiking? Boots vs Trail Runners vs Approach Shoes  | Hiking Tips for Beginners.
The Best Waterproof Hiking Shoes 2022 – Ideal for Lightweight Day Hikes