Waterproof work boots, depending on the nature of your job, are equally as important as waterproof hiking boots, rain jackets,  rainproof tents and other outdoor rain gear. If you work in construction, various engineering fields, surveying, logging, or just about any job that finds you outdoors and exposed to the elements, it might be a good idea to consider investing in a good pair of waterproof boots.
Picture this, you've finally landed that job you've always wanted. It's your first day at wo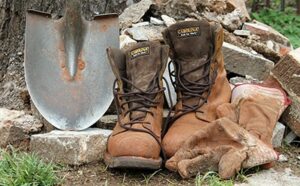 rk and you've been tasked with lifting open crates of wine balancing precariously on top of each other.
While lifting these crates, you're required to walk across a log over a rushing white river to the other side – it's raining and you're wearing flip flops. Before you slip on the wet log, break the crates all over your feet, and inevitably fall into the watery grave below.
There're two things wrong with this picture – one, you honestly probably need a new job, and two, flip flops were definitely not your brightest idea. Fortunately, or unfortunately, we can only help you with the latter, and that's exactly the purpose of this article – to help you find the best waterproof work boots.
Our Editors' Pick 
After many hours of researching, testing and reading reviews, and gathering as much information as we could on the topic, we've compiled a list of what we consider to be the top choices on the market. One that stood out to us the most, the one that we chose to be our Editors' Pick, is the Timberland PRO Powerwelt 6″ Steel Toe Work Boot. (Compare prices at our favorite work gear shop Workingperson.com and Amazon.com)
This boot stands out above the rest due to its versatile nature. It's ideal for work ranging from construction to gardening. This, however, is not one of its kind, take a look at the others we've reviewed.
Buyers Guide – What to look for when choosing your Work Boots
We're not just committed to helping you find the best work boots for wet conditions, but we're here to see you through. So, we've included this buyers guide outlining some things to keep in mind and to look out for when choosing your boots. Also check out our list of the best hunting boots and the best waterproof winter boots, some of them might be the right choice for your kind of work!
 Waterproofing
As always, we consider the waterproofing attribute of any product as #1 on our buyers guide priority list – after all, our name is All Things Waterproof. Specifically for work boots, waterproofing is especially important if your work is focussed outdoors, exposed to the elements and predisposed to moisture.
It's one thing to get your feet wet while hiking because you can always lose your shoes until your feet dry, but to sit down at work air drying your feet due to poor waterproofing in your shoes is pretty crazy, and is bound to warrant some weird glances.
Read More-Best Inflatable Fishing Boat 
We'd always recommend choosing waterproof boots over water-resistant boots. If you're not 100% sure of the difference, you can take a look at our article on that topic, 'Water-Resistant vs Waterproof – What's The Difference?' Applying additional waterproofing products is always a good idea as well.
 Comfort
We always mention the importance of comfort in footwear, and we could not stress that any more than we already do. If a comfortable hiker is a happy hiker, then it goes without saying that a comfortable worker is a happy worker – and a productive worker too!
Whether your job requires you to do heavy lifting, whether it demands you be on your feet for extended periods, or even if you've got to be on the go for long hours, comfortable boots can mean the difference between tired feet at the day's close, or being able to go an extra hour or mile.
Waterproof boots with shock-absorbent, cushioned, contoured insoles and midsoles are the ideal pick if you plan to be on your feet for extended periods.
It's equally beneficial to choose boots that are lightweight to reduce rapid foot fatigue caused by lugging around cement blocks for boots. With the advancement of modern technology, it's not very difficult to find good lightweight work boots.
 Durability and Quality Materials
The durability of your boots should rank pretty high on your priority list. The last thing you need is to buy cheap work boots and have your toes busting through the seams within the first few hours of your work day.
Good waterproof boots are generally constructed out of premium quality leather, and/or leather and fabric blends. Boots featuring dual forged construction – cement & stitch construction all in one is a plus. Basically, the more durable and rugged the shoe, the more functional years you can get out of it.
 Protective Features
Any added protective features in a work boot is a plus. Regardless of what you'll be using the boots for, it literally can't hurt. Steel toe or composite toe protection is always recommended, especially when working in potentially dangerous environments.
Most work boots will include their ASTM certification with regards to toe protection so you'll have a pretty good idea on what boots may, or may not, be suitable for your work environment.
Additionally, if you're exposed to potential electrical hazards, choosing a boot that is EH-rated is a great idea that we both know you'll never regret.
 Traction & Grip
Last, but of course not least is traction and grip. It's imperative that you choose a work boot with good traction. The majority of boots we reviewed featured oil and slip-resistant outsoles which are great for staying upright and uninjured.
A boot with good outsoles, and even multidirectional lugs offers a steady footing on most surfaces and will significantly reduce the chance of falling and subsequent injury.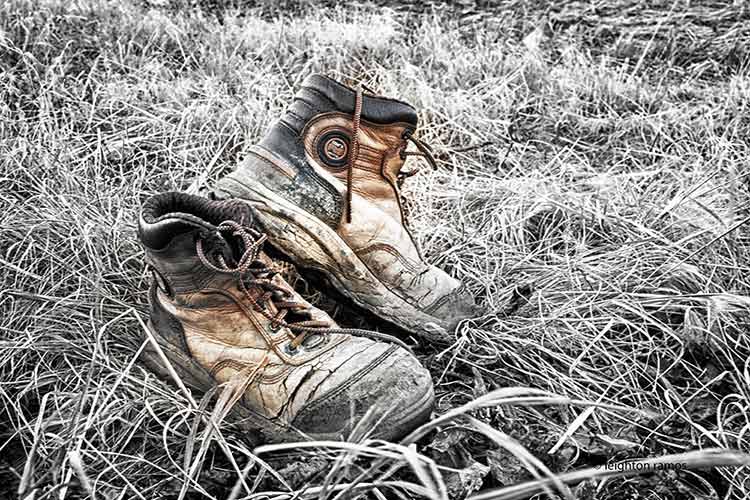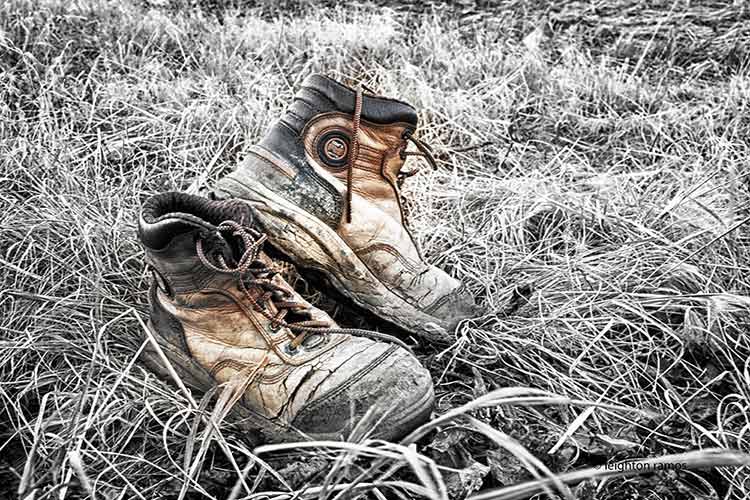 The 10 Best Waterproof Work Boots 2019 – Detailed Reviews
1. Timberland PRO Powerwelt 47001 Mens 6″
Pros:
Abrasion-resistant & durable
Steel toe protection
Comfortable & breathable
Sturdy with good grip
 Cons:
Sizes run from Medium to Wide – not ideal for small feet
Timberland combined durability, waterproofing and foot-safety in the Men's PowerWelt Steel Toe work boots. Constructed from abrasion-resistant and waterproof leather, they can stand up to the toughest conditions.
Similar to the Chippewa boots listed below, Goodyear Welt Cast-Bond technology forms a formidable bond between the 6-inch leather uppers and the soles of this steel toe boot. A steel shank offers firm arch support while a polyurethane footbed with a molded heel cup guarantees comfort.
The Timberland PRO PowerWelt also features a moisture-wicking footbed cover to boot. Unlike that terrible and intended pun, these boots will get you through the toughest on-the-job conditions.
2. Chippewa Men's Insulated Boots
Pros:
Durable & rugged
Provide great insulation yet breathable
Good traction & comfortable
Made in the USA
 Cons:
Another top choice is the Men's insulated work boot by Chippewa. On reviewing and researching this boot, we uncovered a plethora of qualities that position this boot at the top of our list.
Built to last, it features a 6-inch upper made of heavy duty, oiled leather, a rubber sole construct, and a rugged, non-slip outsole design guaranteed to keep you vertical in slippery conditions. The Chip-A-Tex waterproof membrane keeps your feet dry while outside is wet and 3M Thinsulate insulation provides warmth yet remain breathable.
What about comfort? Well, a cushioned collar with moisture-wicking lining ensures a comfortable, dry fit. This is definitely a go-to boot in the world of waterproof boots, especially for harsh, outdoor working environments.
3. Ever Boots Ultra Dry
Pros:
Lightweight
Durable w/ good traction
Flexible & comfortable
Versatile & multifunctional
 Cons:
They run 1/2 size too large
The Ever Boots Ultra Dry boots are leather constructed, lightweight insulated boots that boast durability, comfort, and style. Waterproof full-grain upper leather, waterproof seal-direct attach construction, and waterproof bootie, laces, and stitches make this one of the best work boots we've reviewed.
These lightweight boots feature a flexible bending rubber sole for great traction with a comfortable PU coated midsole, and is ideal for construction, landscaping, gardening, and any outdoor activities – insulated rubber outsole makes them perfect for winter hiking as well. They run half size larger so we recommend buying 1/2 size smaller.
4. Wolverine Men's Crawford Steel Toe
Pros:
Durable & comfortable
Excellent traction & grip
ASTM-rated electrical hazard protection
Slip resistant steel toe design
Great arch support
Good for big feet – due to its wide toe box
 Cons:
Boots reportedly run bigger in size
Another great pick in durable boots is the Crawford Steel Toe by Wolverine Boots. With full grain, 6-inch leather uppers, coupled with a slip resistant steel toe design, these rugged boots offer comfort, protection, cushion, and of course, water protection under some of the harshest working environments.
Good traction and secure footing are provided by thick tread soles which are also oil and chemical resistant. For those who work in close proximity to open circuits, fear not, the Wolverine Boots carry ASTM (International standards organization)-rated Electrical Hazard protection.
This waterproof, slip resistant, steel toe boot is solid support in the most demanding job environments, yet it offers the comfort and safety you need to get through the day.
5. KEEN Utility Men's Pittsburgh
Pros:
Breathable
Durable w/ good traction
Comfortable & versatile
Steel toe protection
 Cons:
The Men's Utility Pittsburgh Steel Toe by KEEN is a supportive work boot with a waterproof upper, contoured heel lock, and an oil and slip-resistant rubber outsole.
KEEN.DRY waterproof technology provides a breathable membrane that promotes airflow but keeps your feet bone-dry. KEEN's metatomical footbed design offers maximum support and optimal comfort. Another great boot by KEEN!
6. Timberland PRO Boondock 6"
Pros:
Functional & dependable
Composite-toe for added safety
Lightweight & good insulation
Comfortable w/ good traction
 Cons:
Reportedly more water-resistant than waterproof
This work boot, another by Timberland, is functional and dependable. It comes equipped with waterproof leather, a waterproof membrane, and lightweight insulation. Composite safety toe and rubber toe protector increase the durability of the Boondock.
Read More-Best Waterproof Hiking Pants
Timberland included their exclusive Anti-Fatigue Technology Comfort System, which absorbs shock and provides added strength, stamina, support, and overall comfort. An oil-resistant reaction outsole ensures a good grip on sketchy work surfaces.
7. Caterpillar Manifold Safety Boots
Pros:
Lightweight
Rugged & extremely durable
Steel toe w/ great traction
 Cons:
CAT – The brand that pretty much represents anything industrial and construction. Caterpillar definitely included their flair for durability, ruggedness and tough design in this waterproof boot. Dual forged construction – cement and stitch construction all in one, provides extreme durability.
The Manifold safety work boots are lightweight, comfortable and provide anti-fatigue benefits to ensure your feet aren't worn out by the end of a long day. A steel toe and extreme slip-resistant outsole provide increased safety and security.
8. Rocky Men's Mobilite 6" Steel Toe
Pros:
Durable & rugged
Breathable
Great traction
EH-rated
Roomy & comfortable
 Cons:
Rugged, durable, and long-lasting are a few words that come to mind with the Rocky Men's Mobilite Boot. Full grain leather, waterproof, breathable, and oil, and slip-resistant are a few features of this boot.
A lightweight, rugged sole on this boot keeps you vertical and is EH rated. A wide oblique toe box provides oodles of room for your feet, and the steel toe offers added protection. Apart from work, these waterproof boots are built for hunting, hiking, and almost anything outdoorsy.
9. Skechers For Work Men's Radford
Pros:
Durable
Comfortable
Composite-toe for added protection
Great traction
 Cons:
Skechers has produced a good, insulated waterproof boot with the 77050 Radford. With leather and synthetic construction, these boots allow you to stay comfortable in the harshest conditions and feature a composite toe.
It also features a waterproof oiled leather upper with seam-sealed rubber shell construction for added protection. For added comfort, this work boot has memory foam, a removable cushioned insole, and a shock-absorbent midsole.
10. Timberland PRO Men's Hyperion
Pros:
Durable
Alloy toe for added protection
Comfortable w/ good foot support
Anti-odor treatment
 Cons:
The Hyperion is constructed of premium leather with a waterproof membrane for abrasion resistance, dry feet, and durability. An alloy toe offers lightweight protection and Timberland's exclusive Anti-Fatigue Technology provides an outstanding comfort and support system. These boots also feature a dual-density footbed, mesh lining and anti-odor treatment.
Boot Care Tips
One of the best ways you can prolong the lifespan of your work boots is how you care for them. General, preventative maintenance on your boots can ensure that they'll be the best boots you've had for a long time. Here are a few tips on boot care.
Clean your work boots regularly. Try to avoid the accumulation of debris and foreign objects on your boots.
Removable boot insoles can be cleaned to avoid foul odors in waterproof boots.
When washing boots, especially leather, use reputable, approved cleaning products where possible. A soft non-brittle brush with water and non-detergent soap works as well.
Air drying boots are the only option. Never put your waterproof boots in the dryer and never put them in the washing machine either. Hand wash and air dry only.
You can consider using beeswax-based waterproofing products, as well as other waterproofing seam sealers to supplement the manufacturer's waterproof design of your boots.
Avoid leaving your boots locked in your car during hot conditions and avoid direct heat. Leave the campfire boot drying to the cowboys.
Conclusion
Coupled with your newly bought waterproof socks, a good pair of boots can make the difference between that extra hour on the J-O-B. We hope that this article has made your life easier when choosing the best waterproof work boots, and we truly hope that you can say goodbye to achy, painful, uncomfortable feet at the end of the work day.
Further Reading: Guide to choosing work boots
The Best Waterproof Work Boots for Higher Comfort and Dry Feet